Sabino Leone Première Novello
Regular price
$42.00
Unit price
per
All Novellos and Nuovos are now shipping! As of 12/02/2021 this is no longer a preorder item. Customers who preordered will receive their Novellos first.
Produced by Sabino Leone
Harvested from 100% early harvest Frantoio olives, "Premiere" Novello is produced from young fruit to create an oil with a surprising bouquet of freshness.
Extra Virgin NOVELLO 500ml (16.9 oz)

Novello olive oils are a celebration of the beginning of the olive harvest season, produced from the early harvest green olives to create the freshest tasting olive oil available.

Varietals: Frantoio

There are hundreds of olive tree varieties, each with its own distinct taste and aromas.

Harvest Date: Fall 2021 (NOVELLO)

Novellos are fresh, lightly filtered olive oils with the possibility of some fruit solids in the product. They are best consumed at their freshest, however a properly stored Novello may be consumed within 6-9 months of harvest for the best flavor. Harvest runs from October through January in Northern Hemisphere regions, and from April through July in Southern Hemisphere regions.
Pairs Well With
Raw Vegetables

Tomato Salads

Pasta

Fresh Baked Breads

Soft Cheese
Aromas
Tomato

Green Herbs

Tomato Vine
Tasting Notes
Green Herbs

Almonds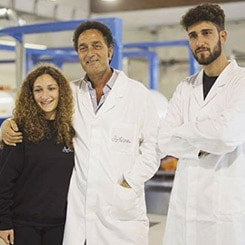 MADE FOR YOU BY
Sabino Leone
The oils of the Sabino Leone company come from the Italian region of Puglia. The family-run company focuses their production on quality and innovation. Their 200 year old Coratina trees, the living library of their farm's history, helps them reflect on the past and rejoice in the transformative nature of their work.
The detachment of the green fruit from the olive tree at harvest begins their process of oil tailoring: the specific efforts made to enhance the characteristics of the oils and the emotions these oils resonate. Their high quality extra virgin olive oils are the work of reflection, craftsmanship, and the harmonious cooperation between the Leone family and their land.