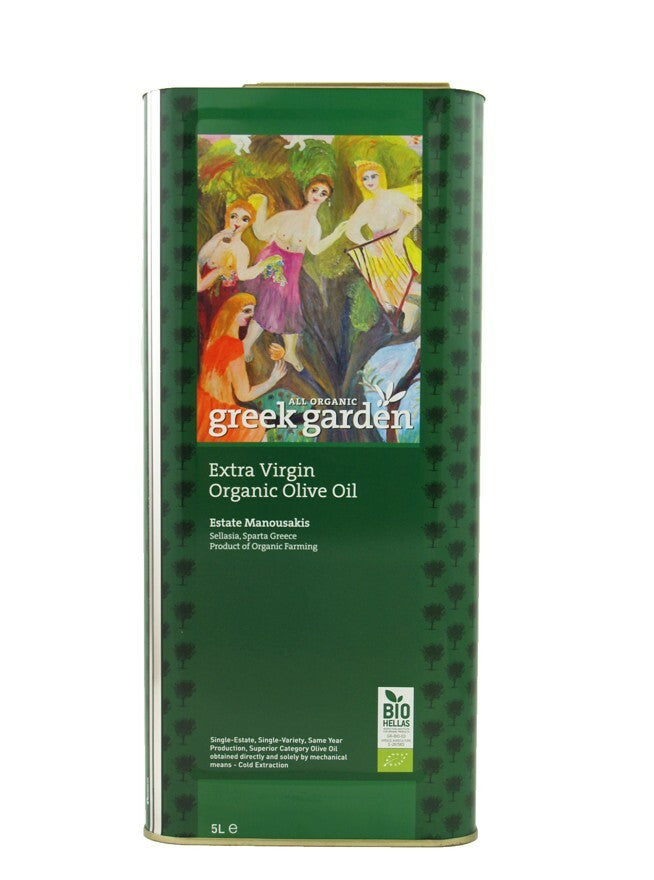 Greek Garden Organic 5L Tin
Regular price
$74.95
Unit price
per
Translation missing: en.products.general.shipping_policy_html
Because tin packaging is inherently fragile and prone to denting, prior to shipment we ensure all tins leaving our facility are in perfect condition and well-packaged. However, we cannot guarantee that no denting will occur while your package is in transit. Furthermore, fluctuations in temperature and/or air pressure during transportation can frequently cause indentation of tin packaging due to expansion and contraction of the oil inside.

A dented tin is a cosmetic issue that does not affect the quality of the oil. Consequently we will not accept tin returns unless they are severely damaged or leaking, after all, the most important factor is the quality of the oil inside.
Produced by Manousakis
This mild intensity extra virgin olive oil produced from both green and ripe Koutsourelia olives has notable aromas of apple and grass. Try pairing with leafy green salads and garden salads.
Extra Virgin 169 fl oz (5 Liters)

Extra virgin olive oil is the highest quality olive oil. By definition it must have some fruity flavor, zero defects, free fatty acid level below 0.8%, and be derived by cold extraction below 27°C ~ 80°F.
Varietals: Koutsourelia

There are hundreds of olive tree varieties, each with its own distinct taste and aromas.
Intensity: Mild

Intensity correlates to the amount of bitterness and/or pungency experienced when consuming an extra virgin olive oil. An olive oil with little bitterness that creates little to no sensation in the back of the throat is considered mild. A very bitter olive oil that causes a slight burning or spicy sensation in the mouth and throat is robust. We rate intensity between 5 values: Mild, Medium, Medium Robust, Robust and Extreme.
Harvest Date: Fall 2022

As a fresh food product, properly stored olive oil should be consumed within 2 years from the time of harvest for best flavor. Harvest runs from October through January in Northern Hemisphere regions, and from April through July in Southern Hemisphere regions.
Pairs Well With
Leafy Green Salads

Garden Salads

Raw Vegetables

Boiled/Steamed Veg

Fried Fish

Poached Fish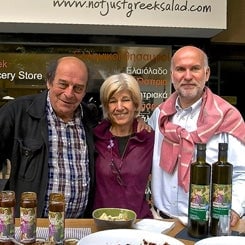 MADE FOR YOU BY
Manousakis
In the year 2000, Greek TV and film director Manousos Manousakis and his family decided to revive a unique olive grove at the foot of Mount Parnonas in the historic village of Sellasia near Sparta in the Laconian Peloponnese.
For the Manousakis family, organic sustainable agriculture is both a necessary and realistic alternative to chemical-intensive farming. They understand thoroughly that excessive pesticide use, soil degradation and genetic homogenization of crops threaten the biodiversity of the countryside, the water we drink and the quality of our food. After years of painstaking devotion, their products have reached the peak of quality they were seeking, and have begun to share this truly special olive oil with all those wishing to experience the authentic flavors of the Peloponnese.