Quattrociocchi 1 Olio Novello
Regular price
$42.00
Unit price
per
All Novellos and Nuovos are now shipping! As of 12/02/2021 this is no longer a preorder item. Customers who preordered will receive their Novellos first.
Produced by Quattrociocchi
Produced from locally grown Itrana, Frantoio and Leccino variety olives grown on the Quattrociocchi estate just south of Rome. The oil's aroma is herbaceous and fruity with hints of green olive and complex vegetal notes of freshly cut grass and green tomato.
Extra Virgin NOVELLO 500ml (16.9 oz)

Novello olive oils are a celebration of the beginning of the olive harvest season, produced from the early harvest green olives to create the freshest tasting olive oil available.

Varietals: Itrana, Frantoio, Leccino

There are hundreds of olive tree varieties, each with its own distinct taste and aromas.

Harvest Date: Fall 2021 (NOVELLO)

Novellos are fresh, lightly filtered olive oils with the possibility of some fruit solids in the product. They are best consumed at their freshest, however a properly stored Novello may be consumed within 6-9 months of harvest for the best flavor. Harvest runs from October through January in Northern Hemisphere regions, and from April through July in Southern Hemisphere regions.
Pairs Well With
Lentils

Carpaccio

Porcini Mushrooms

Marinades

Artichokes

Grilled Meat
Aromas
Olives

Grass

Tomato Vine

Olive Leaf
Tasting Notes
Tomato Vine

Green Herbs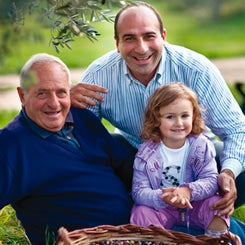 MADE FOR YOU BY
Quattrociocchi
Since 1888 the Quattrociocchi family has been dedicated to the cultivation of olive trees, handing down the tradition and passion generation after generation. The farm, still the residence of the Quattrociocchi family, is situated among organic olive groves on the sunny hills of Alatri in the heart of Ciociaria.
Today the Quattrociocchi family produces some of the best extra virgin olive oils on the worldwide market, gaining international recognition and receiving prestigious awards such as the Hercules OLIVARO, the International Prize BIOL, and given the Best Quality Prize by the editors of Marco Oreggia's 2012 Flos Olei guidebook as well as being rated a Top Farm with a score of 96/100.