Guglielmi Fior D'O Nuovo
Regular price
$42.00
Unit price
per
All Novellos and Nuovos are now shipping! As of 12/02/2021 this is no longer a preorder item. Customers who preordered will receive their Novellos first.
Produced by Olio Guglielmi
Produced from a early harvest Ogliarola olives grown in the countryside of Puglia. Fior D'O has an intense aroma of fresh olives and creamy texture in the mouth, revealing the rustic and genuine nature of this early harvest oil.
Extra Virgin NOVELLO 500ml (16.9 oz)

Novello olive oils are a celebration of the beginning of the olive harvest season, produced from the early harvest green olives to create the freshest tasting olive oil available.

Varietals: Ogliarola

There are hundreds of olive tree varieties, each with its own distinct taste and aromas.

Acidity: 0.23%

Acidity is one of the quality parameters set by the IOC for extra virgin olive oil. By definition extra virgin olive oil must have a free fatty acid level below 0.8%. Acidity CANNOT be detected by sensory analysis. This value is always determined by a laboratory.

Harvest Date: Fall 2021 (NOVELLO)

Novellos are fresh, lightly filtered olive oils with the possibility of some fruit solids in the product. They are best consumed at their freshest, however a properly stored Novello may be consumed within 6-9 months of harvest for the best flavor. Harvest runs from October through January in Northern Hemisphere regions, and from April through July in Southern Hemisphere regions.
Pairs Well With
Grilled Breads

Fresh Cheese

Soups

Raw Vegetables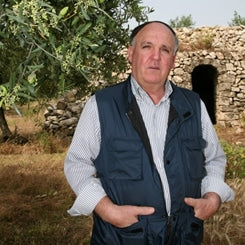 MADE FOR YOU BY
Olio Guglielmi
Located in the renowned production area of Andria, Puglia in the Castel del Monte territory, Fratelli Guglielmi and his family have been producing outstanding extra virgin olive oils since 1954.
Combining both tradition and modern technology with careful attention to every stage of the cultivation and production process, Fratelli Guglielmi produces extra virgin olive oils of the highest quality, pressing their olives no more than 12 hours after harvesting. Thanks to the care and passion for the land and its fruits, the Guglielmi family continues to gain recognition for their outstanding oils.