Tamia Organic Unfiltered Novello
Regular price
$48.00
Unit price
per
All Novellos and Nuovos are now shipping! As of 12/02/2021 this is no longer a preorder item. Customers who preordered will receive their Novellos first.
Produced by Tamia
From the Tuscia region of central Italy, Tamia's Novello is produced from a blend of oils from organic early harvest Leccino and Frantoio olives grown in nutrient-rich volcanic soil.
Organic Extra Virgin NOVELLO 500ml (16.9 oz)

Novello olive oils are a celebration of the beginning of the olive harvest season, produced from the early harvest organic green olives to create the freshest tasting olive oil available. Certified organic olive oils use organically grown olives and meet organic production standards for their region.

Varietals: Leccino, Frantoio

There are hundreds of olive tree varieties, each with its own distinct taste and aromas.

Harvest Date: Fall 2021 (NOVELLO)

Novellos are fresh, lightly filtered olive oils with the possibility of some fruit solids in the product. They are best consumed at their freshest, however a properly stored Novello may be consumed within 6-9 months of harvest for the best flavor. Harvest runs from October through January in Northern Hemisphere regions, and from April through July in Southern Hemisphere regions.
Pairs Well With
Bitter Green Salads

Roasted/Grilled Veg

Red Meat

Pasta

Aged Cheese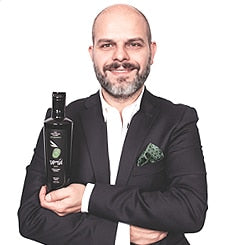 MADE FOR YOU BY
Tamia
From the area of Tuscia, to the northeast of Rome in the province of Lazio, Tamia continues the regional traditions of producing quality olive oil in their unique and nutrient-rich volcanic soil. While leaning on their distinct local olive variety, Caninese, Tamia also produces an organic Maurino monocultivar oil, and extra virgin blends that incorporate the more common Frantoio and Leccino varieties.
The company has its roots in Tuscia dating back to 1928, with the founders' studious ways leading them to focus on quality, and eventually convert to entirely organic production by the end of the 20th century. The Tamia brand was born in 2012, and it has since won many awards, both in Italy and across the globe, including best Organic Delicate EVOO at the New York IOOC.