1926 DOP Garda Trentino
Trentino Alto-Adige, Italy
Regular price
$35.95
Unit price
per
Translation missing: en.products.general.shipping_policy_html
Estimated restock date: 10-27-2023
Produced by Agraria Riva del Garda
Handpicked from Trentino's Casaliva olives on Lake Garda's shore at an early stage of maturity, this oil offers a harmonious, slightly spicy flavor, perfect for enhancing fish and vegetables.
Extra Virgin 16.9 fl oz (500ml)

Extra virgin olive oil is the highest quality olive oil. By definition it must have some fruity flavor, zero defects, free fatty acid level below 0.8%, and be derived by cold extraction below 27°C ~ 80°F.
Varietals: Casaliva, Frantoio, Leccino, Pendolino

There are hundreds of olive tree varieties, each with its own distinct taste and aromas.
Intensity: Medium

Intensity correlates to the amount of bitterness and/or pungency experienced when consuming an extra virgin olive oil. An olive oil with little bitterness that creates little to no sensation in the back of the throat is considered mild. A very bitter olive oil that causes a slight burning or spicy sensation in the mouth and throat is robust. We rate intensity between 5 values: Mild, Medium, Medium Robust, Robust and Extreme.
Acidity (%): 0.14

Acidity is one of the quality parameters set by the IOC for extra virgin olive oil. By definition extra virgin olive oil must have a free fatty acid level below 0.8%. Acidity CANNOT be detected by sensory analysis. This value is always determined by a laboratory.
Harvest Date: Fall 2022

As a fresh food product, properly stored olive oil should be consumed within 2 years from the time of harvest for best flavor. Harvest runs from October through January in Northern Hemisphere regions, and from April through July in Southern Hemisphere regions.
Pairs Well With
Fish

Raw Vegetables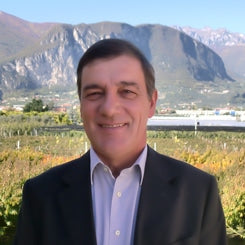 MADE FOR YOU BY
Agraria Riva del Garda
The Riva del Garda Agraria was founded by royal decree in 1926 with the general purpose of promoting and supporting agriculture in the Garda Trentino area in Northern Italy. The local territory comprises the upper Lake Garda area, which is actually the most southern part of the Alpine region of Trentino-Alto Adige, and is a paradise which has remained largely undisturbed from outside influences.
The upper Lake Garda area lies just below the 46th parallel and is an area with a mild climate protected by the Dolomite Mountains to the north and the warming effects of Lake Garda to the south. The lower Sarca Valley is one large garden, and those who cultivate it remain entranced by this fertile land with its abundant vineyards and lush olive groves in a peaceful, verdant and uncontaminated setting. It is easy to see why the Riva del Garda Agraria can rightfully boast of the high quality of the local products, which come from the earth, care and ancient traditions of the area.