Frantoio Pruneti Olio Nuovo
Regular price
$48.00
Unit price
per
Translation missing: en.products.general.shipping_policy_html
Anticipated shipping date: 12/08/2023. Preordered items will be shipped separately from any in-stock products.
Produced by Frantoio Pruneti
This robust intensity extra virgin novello olive oil produced from green Moraiolo olives has notable aromas of grass and green herbs. Try pairing with bitter green salads and roasted/grilled veg.
Extra Virgin NOVELLO 16.9 fl oz (500ml)

Novello olive oils are a celebration of the beginning of the olive harvest season, produced from the early harvest green olives to create the freshest tasting olive oil available.

Varietals: Moraiolo, Frantoio, Leccino

There are hundreds of olive tree varieties, each with its own distinct taste and aromas.

Intensity: Robust

Intensity correlates to the amount of bitterness and/or pungency experienced when consuming an extra virgin olive oil. An olive oil with little bitterness that creates little to no sensation in the back of the throat is considered mild. A very bitter olive oil that causes a slight burning or spicy sensation in the mouth and throat is robust. We rate intensity between 5 values: Mild, Medium, Medium Robust, Robust and Extreme.

Harvest Date: Fall 2023 (NOVELLO)

As a fresh food product, properly stored olive oil should be consumed within 2 years from the time of harvest for best flavor. Harvest runs from October through January in Northern Hemisphere regions, and from April through July in Southern Hemisphere regions.
Pairs Well With
Bitter Green Salads

Roasted/Grilled Veg

Red Meat

Aged Cheese

Soups & Stews

Pizza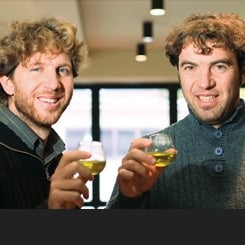 MADE FOR YOU BY
Frantoio Pruneti
In the heart of Chianti Classico, a territory famous for its excellent agricultural cultivation of olive trees, the brothers Pruneti, passionate about extra virgin olive oil from an early age, live as guardians of a family tradition handed down over four generations.
The Pruneti family personally oversees all stages of production through to the final product, ensuring that their oils reach the highest levels of quality. Applying both ancient wisdom and new knowledge to their production process, Frantoio Pruneti's extra virgin olive oil has earned its place as a true symbol of the land. Their company is consistently awarded by the editors of Marco Oreggia's Flos Olei guidebook and given the "Top Farm" ranking of 97/100 in 2014 and 2015.