Quattrociocchi Moraiolo - Tasting Kit
Regular price
$4.00
Unit price
per
Translation missing: en.products.general.shipping_policy_html
Estimated restock date: 11-03-2023
Because tin packaging is inherently fragile and prone to denting, prior to shipment we ensure all tins leaving our facility are in perfect condition and well-packaged. However, we cannot guarantee that no denting will occur while your package is in transit. Furthermore, fluctuations in temperature and/or air pressure during transportation can frequently cause indentation of tin packaging due to expansion and contraction of the oil inside.

A dented tin is a cosmetic issue that does not affect the quality of the oil. Consequently we will not accept tin returns unless they are severely damaged or leaking, after all, the most important factor is the quality of the oil inside.
Produced by Quattrociocchi
This extreme intensity produced from green olives has natural flavoring. Try pairing with bitter green salads and roasted/grilled veg.
Intensity: Extreme

Intensity correlates to the amount of bitterness and/or pungency experienced when consuming an extra virgin olive oil. An olive oil with little bitterness that creates little to no sensation in the back of the throat is considered mild. A very bitter olive oil that causes a slight burning or spicy sensation in the mouth and throat is robust. We rate intensity between 5 values: Mild, Medium, Medium Robust, Robust and Extreme.
Harvest Date: Fall 2022

As a fresh food product, properly stored olive oil should be consumed within 2 years from the time of harvest for best flavor. Harvest runs from October through January in Northern Hemisphere regions, and from April through July in Southern Hemisphere regions.
Pairs Well With
Bitter Green Salads

Roasted/Grilled Veg

Red Meat

Aged Cheese

Soups & Stews

Pizza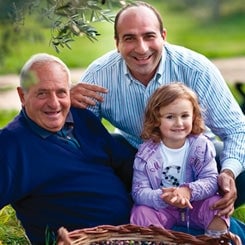 MADE FOR YOU BY
Quattrociocchi
Since 1888 the Quattrociocchi family has been dedicated to the cultivation of olive trees, handing down the tradition and passion generation after generation. The farm, still the residence of the Quattrociocchi family, is situated among organic olive groves on the sunny hills of Alatri in the heart of Ciociaria.
Today the Quattrociocchi family produces some of the best extra virgin olive oils on the worldwide market, gaining international recognition and receiving prestigious awards such as the Hercules OLIVARO, the International Prize BIOL, and given the Best Quality Prize by the editors of Marco Oreggia's 2012 Flos Olei guidebook as well as being rated a Top Farm with a score of 96/100.