The Masia el Altet Experience
Regular price
$132.00
Sale price
$146.80
Unit price
per
Translation missing: en.products.general.shipping_policy_html
Produced by Masia el Altet
Complete set of oils from the renowned producer from Valencia, Spain.
Extra Virgin 4x 500ml (16.9 oz)

Extra virgin olive oil is the highest quality olive oil. By definition it must have some fruity flavor, zero defects, free fatty acid level below 0.8%, and be derived by cold extraction below 27°C ~ 80°F.
Varietals: Picual, Changlot Real, Genovesa, Blanqueta, Arbequina, Alfafarenca

There are hundreds of olive tree varieties, each with its own distinct taste and aromas.
Harvest Date: Fall 2022

As a fresh food product, properly stored olive oil should be consumed within 2 years from the time of harvest for best flavor. Harvest runs from October through January in Northern Hemisphere regions, and from April through July in Southern Hemisphere regions.
Pairs Well With
Leafy Green Salads

Garden Salads

Boiled/Steamed Veg

Roasted/Grilled Veg

Broiled Fish

Grilled Fish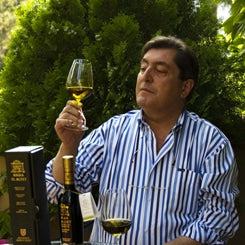 MADE FOR YOU BY
Masia el Altet
The exceptional extra virgin olive oils of Masia el Altet are produced from native olives collected in the fields of the Alicante Mountains of Valencia, an area with a unique microclimate that allows the production of olives. Their rural farm is located in a narrow valley known as Polop, surrounded by mountains, pines, oaks and junipers. Bushes of sage, thyme, rosemary and mint dot the hillsides, contributing to the extraordinary beauty of the area known as the "Kingdom of Valencia."
During the harvest season, the olives are picked at the ideal state of maturity and immediately transferred to the olive mill where they are cold-extracted, decanted, and preserved with nitrogen in stainless steel tanks, ensuring the oil's quality and integrity. The oils of Masia el Altet are prized by internationally recognized Michelin Star chefs and continue to garner some of the most prestigious awards in the world.