Recipes

Greek Baked Giant Beans "Gigantes" Recipe
Recipes
Greek Baked Giant Beans "Gigantes" Recipe
Posted by Olive Oil Lovers on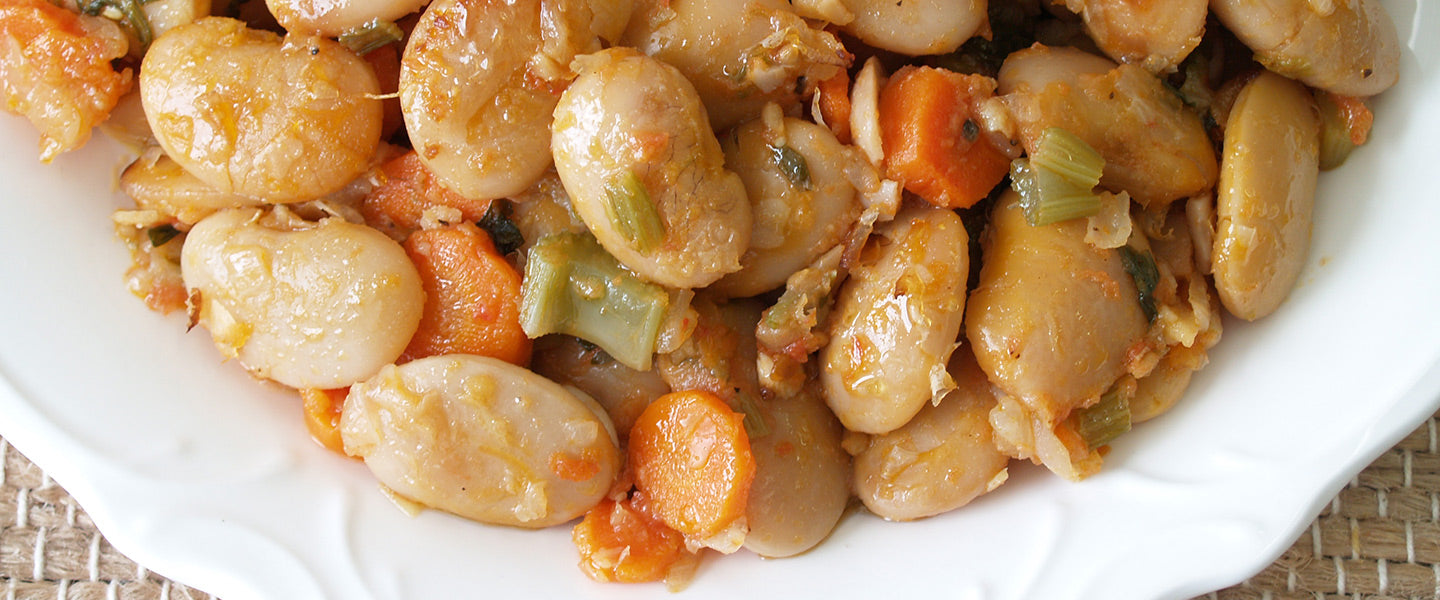 A delicious and beloved vegetarian dish found throughout Greece is gigantes sto fourno or "Giant Dried Beans in the Oven". Back in the day when meat was considered a delicacy and often eaten only once a week, pulses such as these were often eaten to sustain the body through the hard-working days of harvest season.
Gigantes can be found in Greek and Mediterranean specialty markets throughout North America; however, the recipe can also be substituted with lima or broad beans or even the smaller classic white bean.
There are many versions of the recipe, some simpler than others, yet the version below has a wonderful depth and richness in flavor that is sure to warm you up on these cooler autumn days. To keep the recipe traditional, try a full-flavored Koroneiki extra virgin olive oil from Greece.
What you will need:
1 pound giant dried beans gigantes
3/4 cup extra virgin olive oil
1 onion, chopped
1 cup chopped leafy celery
2 carrots, peeled and sliced thinly into rounds
2 cloves garlic, minced
3 Tbsp. chopped parsley
2 large ripe tomatoes
1/4 cup white wine
1 cup water
1 tsp sugar
1 tsp sea salt
cracked pepper to taste
Directions
Begin by soaking the dried gigantes overnight in water to soften them. The more time you allow for soaking, the less time they will need to boil.
The following day, drain and rinse the beans and boil in a pot of water for 30 minutes to 1 hour, depending on how long they were soaked beforehand. You want the beans to be just soft enough to the taste.
In the meantime, slice the tomatoes in half and using the large-tooth side of a cheese grater, rub the open side of the tomato halves along the cheese grater, collecting the juice into a bowl and set aside.
Next heat the extra virgin olive oil in a large pot and sauté the onions, celery and carrots until just beginning to soften, then add the garlic, parsley, tomato, white wine, sugar, salt and pepper along with 1 cup of water and let simmer for about 30 minutes until the beans are cooked.
Finally, drain the beans and add to the tomato sauce mixture, stirring until the beans are thoroughly mixed with the sauce. Transfer the beans to a large baking dish and cover with foil. Bake the beans covered for 30 minutes at 425 degrees Fahrenheit then remove the foil and bake for another 10 – 15 minutes until the top turns just slightly golden-brown. Serve warm.
Yield: 6 – 8 servings