Grove Gazette

Newsletter

The Grove Gazette - Fall 2019
Grove Gazette
Newsletter
The Grove Gazette - Fall 2019
Posted by Olive Oil Lovers on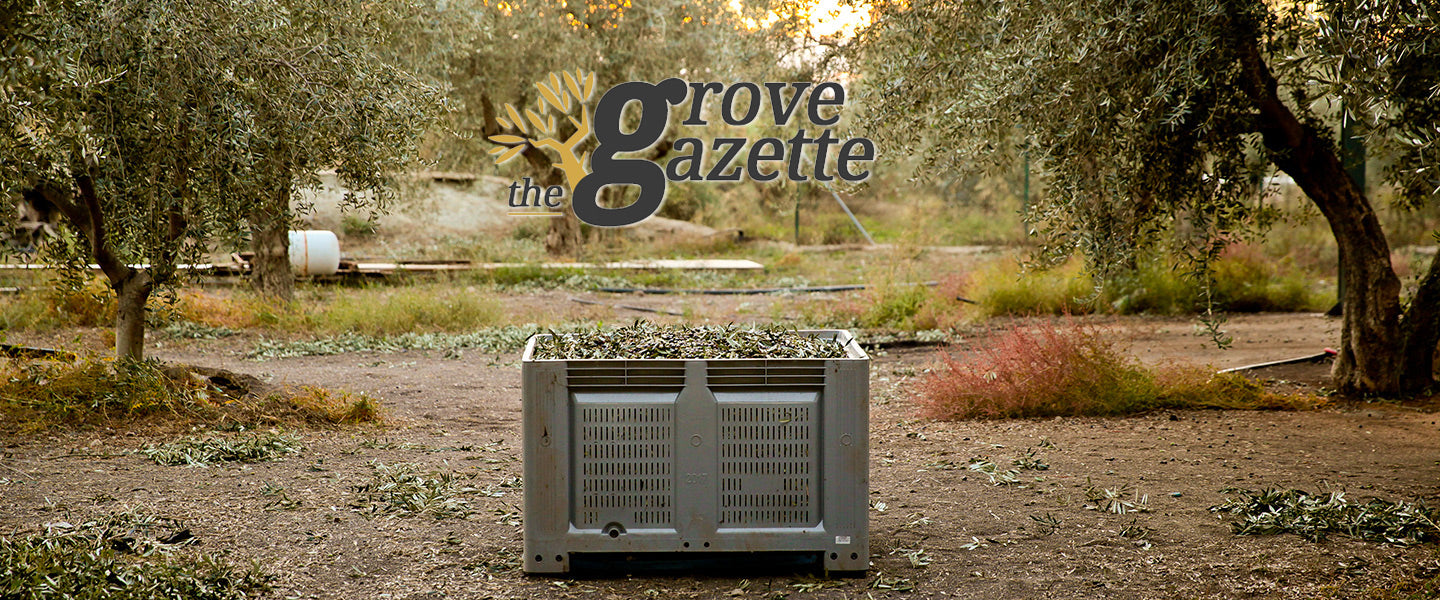 Now that Autumn is officially here, can we talk about the upcoming harvest? We know our favorite producers are ready, with many already eyeing those green olives waiting for the perfect moment to get their shakers shaking, combs combing, and mills malaxing!
News
Central Italy Feeling Good
The early reports we're getting from our producers in Central Italy make it sound like the tough times from last year are behind them and there should be a bumper crop of olives this year. Last year's harvest forced many producers to reduce their output of certain oils, or drop products from their lines altogether. With this year's rebound we're excited to taste everything Italy has to offer!
The Rain in Spain
Southern Spain got inundated by torrential rainfall last weekend, so we're crossing our fingers and sending our best wishes to anyone affected. Many of our most popular Spanish oils come from producers in these areas, and luckily our news from them says the olives are okay!
Anticipating Novello Season
Fall is our favorite time of year, because with the olive harvest beginning soon all across the Mediterranean, it means it's (almost) officially Novello season! Before we know it, we'll have the freshest, most flavorful oils on the planet in our warehouse, and most importantly, in our offices, where we'll be dipping bread like there's no tomorrow.
Oh, will you want some too? Ah yes, that's why we're in business!
Of course we're already talking to producers and planning our logistics so we can share our wonderful Novellos with you. So keep an eye out, as our Novello pre-sale email should hit your inbox in the coming weeks.
Wholesale Novello?
Want to get some Novello oils for your restaurant or shop? We offer convenient service to all levels of the retail and foodservice industries in North America. This is the first year we are making Novello oils available for Wholesale customers, so if you don't already have a Wholesale account, be sure to apply for one today!
Definitely Drizzle!
Have you started earning your Drizzle points yet? With Olive Oil Lovers' new rewards program, Drizzle, you're awarded points for each purchase, and that's not all. You can also earn points for product reviews, following Olive Oil Lovers on social media, and by referring your friends.
With so many great Novellos on the way, sharing Novello hype with friends is a great way to celebrate. And if that referred friend spends $75 or more on their first purchase, that's $10 in points for you to spend on your next order!
OOL Content
"This process of growth, starting from very little commercial knowledge and an unknown brand to becoming a point of reference for quality production worldwide, has been my personal imprint to Frantoio Franci." - Giorgio Franci
The latest producer in Olive Oil Lovers' Meet Our Producers spotlight series features Frantoio Franci, the company named Farm of the Year for 2019 by Flos Olei and Company of the Year for 2019 by Italian publication Gambero Rosso. Check out our producer spotlight and learn the story behind Giorgio Franci and his multi-award winning company.
With Italian Heritage Month around the corner in October we also wanted to highlight one of the world's most popular Italian producers, Americo Quattrociocchi. We were lucky enough to visit Americo at his mill just outside Rome, where we sampled his wonderful oils and stuffed our faces with bread covered in his delectable jams and creams. Americo's big personality stands front and center in our latest Master Tasting video featuring the lovely EVOO Quattrociocchi Olivastro. You won't want to miss it!
The newest episode of our tasting series Find Your Crush features one of our favorite Greek oils, Entelia. Watch the video to learn more about olive oil production in Crete, or just to count Dylan's many bloopers. And be sure to subscribe to our Youtube channel so you don't miss any of our upcoming Novello content.
Review Spotlight
"I like trying different olive oils and my experience when talking to sales associates at OO Lovers is always excellent. The staff is knowledgeable and friendly. I tell them what style I like and they see what I have ordered in the past and can explain in detail different nuances some of the oils. I have not been disappointed. I also don't worry about counterfeit or adulterated oil. Thank you." - Stuart, Michigan
Products We Love
Thinking about those delicious spreads from Quattrociocchi inspired us to highlight some wonderful pantry products in this edition of the Grove Gazette. If you're an olive fan, check out one of Joanne's favorites, the terrific Picholine Olives from Chateau d'Estoublon of Provence, or the Taggiasca Olives from Paolo Cassini of Liguria, two new additions to our catalog this year. Frantoi Cutrera from Sicily creates many delicious olive pates each year, but the Pistachio and Almond Pesto is what our staff is always raving about. Quattrociochi's jams are also a favorite, but if you're looking for an all-natural, EVOO-based replacement for Nutella, their Hazelnut Creams cannot be missed.
Mushrooms, pasta, and olive oil have been good friends throughout the culinary history of Italy, and in this dish they all shine through with bright and clear flavors. The thick-cut pappardelle noodles get richly coated in the deeply flavorful olive oil, and the earthy umami flavors of the mushrooms seep throughout the entire dish. Toss in some fresh thyme and you have pure perfection. The complete recipe suggests cooking and finishing with ULIVA, produced near Lake Garda in northern Italy, but any one of our Tuscan oils would also pair well with the mushroomy goodness of this dish.
Olive Oil in the News
While many studies have cited consumption of extra virgin olive oil to be beneficial for preventing and treating cancer, a recent study definitively connects the cancer fighting ability of EVOO to oleocanthal, one of the polyphenols found in olive oil, noting that higher polyphenol content makes for a more potent weapon against cancer.
"These data demonstrate that oleocanthal is able to exert this beneficial effect when delivered via whole EVOO and not only in a purified phenolic form… The oils with the high oleocanthal content completely killed the cancer cells in a manner similar to purified oleocanthal. The oils with the average oleocanthal content, also reduced viability but to a lesser extent. The non EVOOs with no oleocanthal had no effect on cell viability." - PLOS ONE, August 2019