Recipes
Skillet Feta
Posted by Catherine Murray on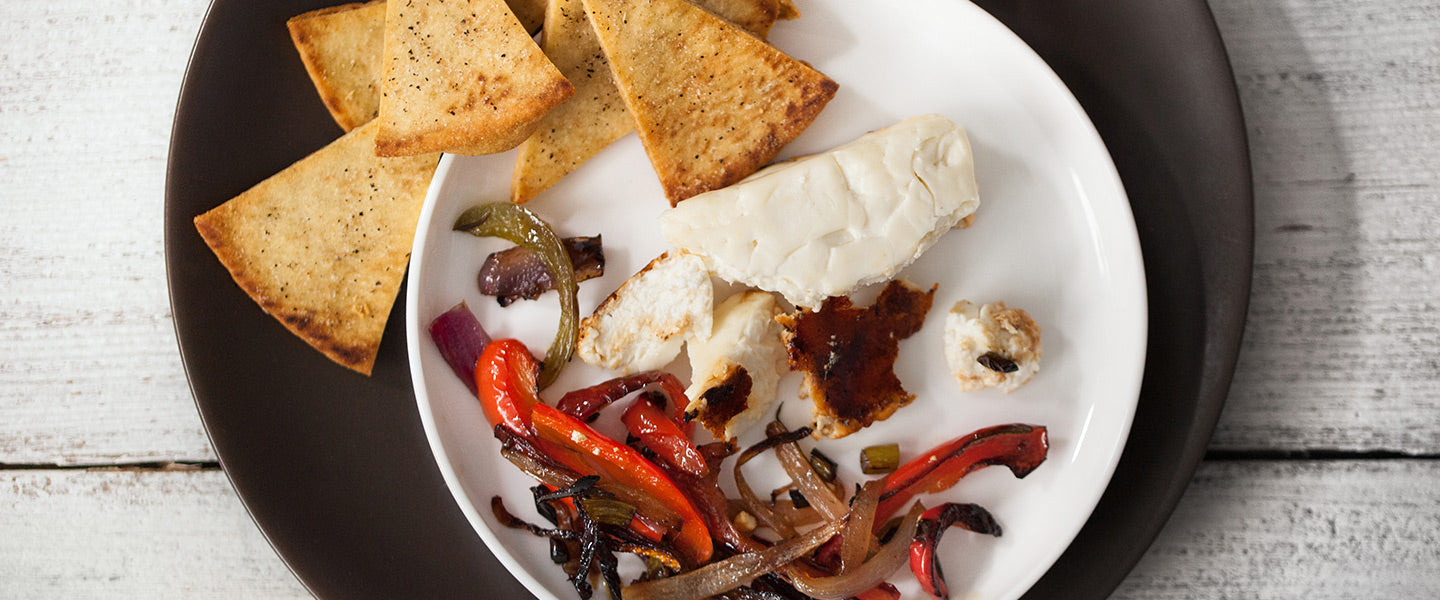 Think of this dish as a Mediterranean version of Mexican fajitas, served sizzling hot straight from the skillet.
Prep & Cook Time: 20 minutes
Serves: 2 (dinner style) or 4-6 (appetizer style)
Ingredients
1 8oz. brick of Feta cheese (not crumbled)
1 green pepper, sliced
1 red pepper, sliced
1 small red onion, sliced
3 garlic scapes, finely chopped
¼ cup Mandranova Nocellara extra virgin olive oil (plus more for brushing onto pita)
2 large sprigs fresh rosemary
6 pitas
Preparation
Preheat oven to 425 degrees. Cut pita into triangle wedges. Place in a single layer on a cookie sheet and brush one side with olive oil, salt and pepper. Bake for 5-7 minutes, until slightly browned. Set aside.
Meanwhile, heat 1/8 cup olive oil in a large cast iron skillet. Add the 2 peppers, onion and garlic scapes. Cook on medium high, stirring occasionally. The goal is to saute the vegetables at first and then build some caramelization by searing the edges of the vegetables.
When the vegetables are almost done, spread them to the outer edges of the skillet to make room for the whole brick of feta. Add 1/8 cup oil to the middle of the pan and quickly place the feta on top. Sprinkle rosemary leaves (without stem) on top of the vegetables and feta. Cover with a lid and cook until the feta is soft on top and the bottom has a dark crusted layer.
Set the sizzling hot skillet on the table and dig in (with a trivet and oven mitt, of course!)