Grove Gazette

Newsletter

The Grove Gazette - Winter 2020
Grove Gazette
Newsletter
The Grove Gazette - Winter 2020
Posted by Olive Oil Lovers on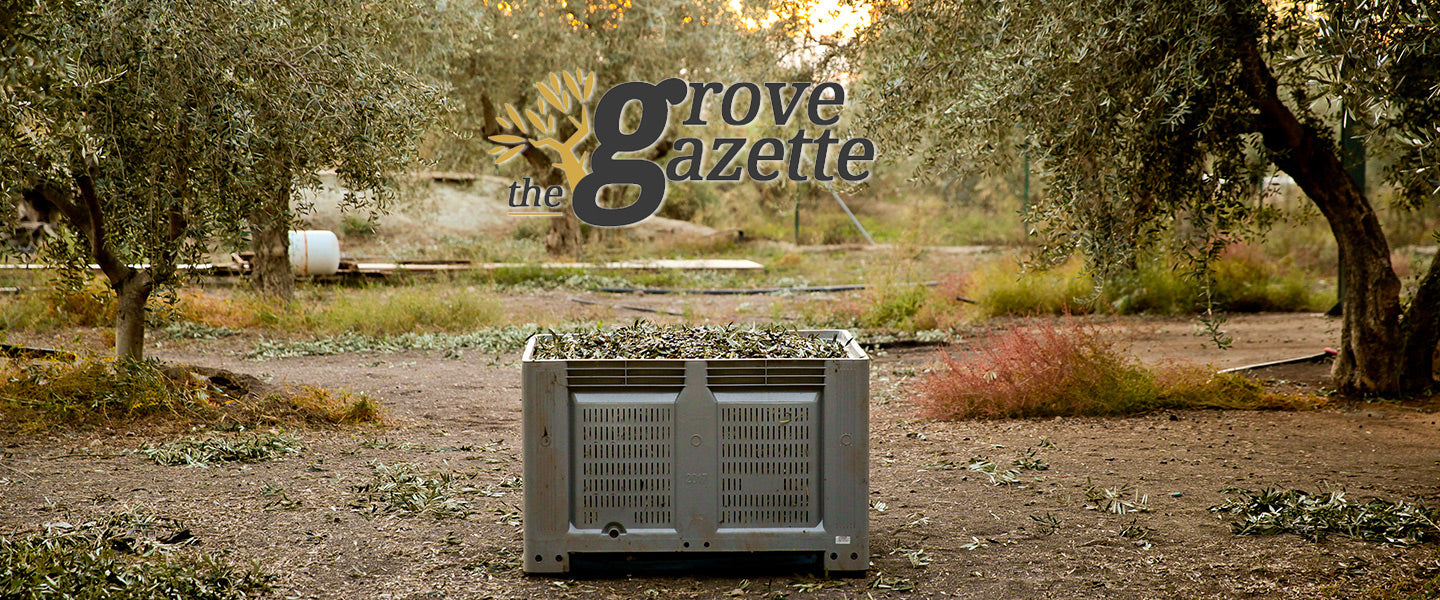 Olive Oil Lovers Newsletter, Winter 2020
The new year is always an exciting time for all of us EVOO lovers, because it means hundreds of fresh new extra virgin olive oils from the wonderful producers we work with across the Northern Hemisphere. This issue of the Grove Gazette features updates on the Fall 2019 harvest, the recent olive oil tariffs, when you can expect new harvest oils, and much more.
News
Updates from the IOC
This year the International Olive Council estimates a small drop in olive oil production worldwide, headlined by an estimated 31% decrease in Spanish production. This is particularly notable as Spain often produces more than half of the world's olive oil each year. On the other hand, Greece is predicted to have a favorable 2019. And the numbers for Italy are incredibly rosy, with the IOC predicting almost double the output for Italy's 2019 harvest compared 2018. These numbers are perhaps more indicative of Italy's rough 2018 harvest. From the reports we've received from our producers, Central Italy had a fairly typical crop in 2019, with some areas more favorable than others, as well as terrific bounce back from Puglia this season.
U.S. Places Import Tariffs on Spanish Olive Oil
In October of 2019 the U.S. Federal Government imposed a 25% tariff on imports of many European agricultural products, including Spanish olive oil. While these measures directly affect our imported Spanish olive oils, we have worked closely communicating with our producers to work together in absorbing as much of these costs as possible so this affects you, our valued customers, the least.
When to Expect New Harvest Oils
We've been busy over the last month placing orders and coordinating logistics with our producers to ensure that we continue providing our loyal customers the best selection of quality extra virgin olive oils. To that end, you can look forward to our first batch of new harvest oils to begin trickling in very soon, with the majority of our oils arriving on our storefront in just a few weeks. This year you can also expect a few new producers from areas you've been asking for, so be sure to stay tuned!
Our First New Harvest Oils!
Every year the first new harvest oils we receive come from Spanish producer Castillo de Canena. Three unique, limited-edition bottles of Fall 2019 harvest oils landed on Olive Oil Lovers this week. Castillo de Canena Early Royal is harvested from rare Royal variety olive trees which grow exclusively in the Cazorla Mountains of Jaén. The First Day Harvest Picual and First Day Harvest Arbequina are produced from olives collected in the first 24 hours of harvest each year. Castillo de Canena celebrates their First Day products by selecting a Spanish cultural figure to redesign the labels for these bottles each year. Follow the links above to view the new labels and learn more about these excellent olive oils.
OOL Content
"The most fulfilling part of this work is to see and to feel the evolution of the product. How we take care of even the smallest details about the fruit, the harvest, and every process to obtain our final EVOO. And after, to check that the consumers enjoy and value increasingly our products and our effort." - José Gálvez
For this edition of the Grove Gazette we wanted highlight Spain's Oro Bailen. This company's signature oil, Reserva Familiar Picual, was the runaway favorite at the 2019 EVOOLEUM Awards, one of the most respected olive oil competitions in the world. The competition named Oro Bailen Reserva Familiar Picual the Best Picual, Best Monovarietal, Best from Spain, Best Green Fuity, and finally, the Absolute Best.
We recently updated the Oro Bailen page of Olive Oil Lovers' Meet Our Producers spotlight series. Check out our story to learn more about Oro Bailen and the company's master miller, José Gálvez.
For both us and our producers, the production of olive oil is a romantic and emotional experience. We tried to capture that feeling in one of our latest videos, "Oro Bailen: A Quest for Perfection." If you enjoy our videos, be sure to subscribe to our Youtube channel so you don't miss any of our content. 
Review Spotlight
"I've been buying your Novellos for two years and would find it impossible to go back to the oils available to most of us in the grocery store chains. I have given some of your oil as gifts and everyone has the same reaction. It's like no olive oil they have ever tasted. I'm careful who I give the oil to and make sure its someone who will appreciate how special it is and know how to use it properly. I recommend your oils to anyone. It's a splurge that's worth it!" - OOL customer Larry S. on the Oro Bailen Picual Novello
Products We Love
Oro Bailen harvests their fruit at night when the fruit is cool, and then they crush the olives within 2 hours to preserve all the nuance of the freshly-picked fruit. Upon opening the bottle you will discover this exquisite Picual juice at the peak of its power, packed with nutrients, alive with freshness, and delivering a complex flavor unlike anything else.
We feel incredibly grateful to have had the Oro Bailen Picual Novello grace our virtual shelves over the last few months, as these olive oil artisans created this Novello exclusively for Olive Oil Lovers. Be sure to try a bottle before they're gone!
Baba Ghanoush is a simple, eggplant based recipe from Israel and Lebanon. Traditionally the eggplant is charred over an open fire, but you can get a fine result using your broiler, or even simply baking the egglants. Served with lamb and seasoned cauliflower, you'll find this recipe makes a great meal for winter.
This recipe recommends the Oro Bailen Reserva Familiar Arbequina oil, as its lightness and fruity qualities nicely compliment the flavor of the eggplant. Unfortunately this oil is currently sold out on Olive Oil Lovers. However, in recent months we've been making babaganoush with the Oro Bailen Picual Novello, which adds a bright spiciness to this Mediterranean dip. Any of of our other Spanish Arbequinas would also make a great choice.
Olive Oil in the News
The health benefits of extra virgin olive oil continue to stack up. One of the latest published studies has documented the effects of EVOO on the tau proteins in the brains of mice. Scientists have for years been discovering more about the connection between tau proteins and neurodegenerative diseases in humans.
"Chronic administration of EVOO‐rich diet results in an amelioration of working memory, spatial learning, basal synaptic activity, and short‐term plasticity together with a significant reduction in the amount of phosphorylated tau and tau oligomers… EVOO should be considered as a potential and viable multi‐targeting agent not only for AD (Alzheimers Disease) but also for primary tauopathies (neurodegenerative disorders)." - Aging Cell