Newsletter

The Top Olive Oils of 2022
Newsletter
The Top Olive Oils of 2022
Posted by Olive Oil Lovers on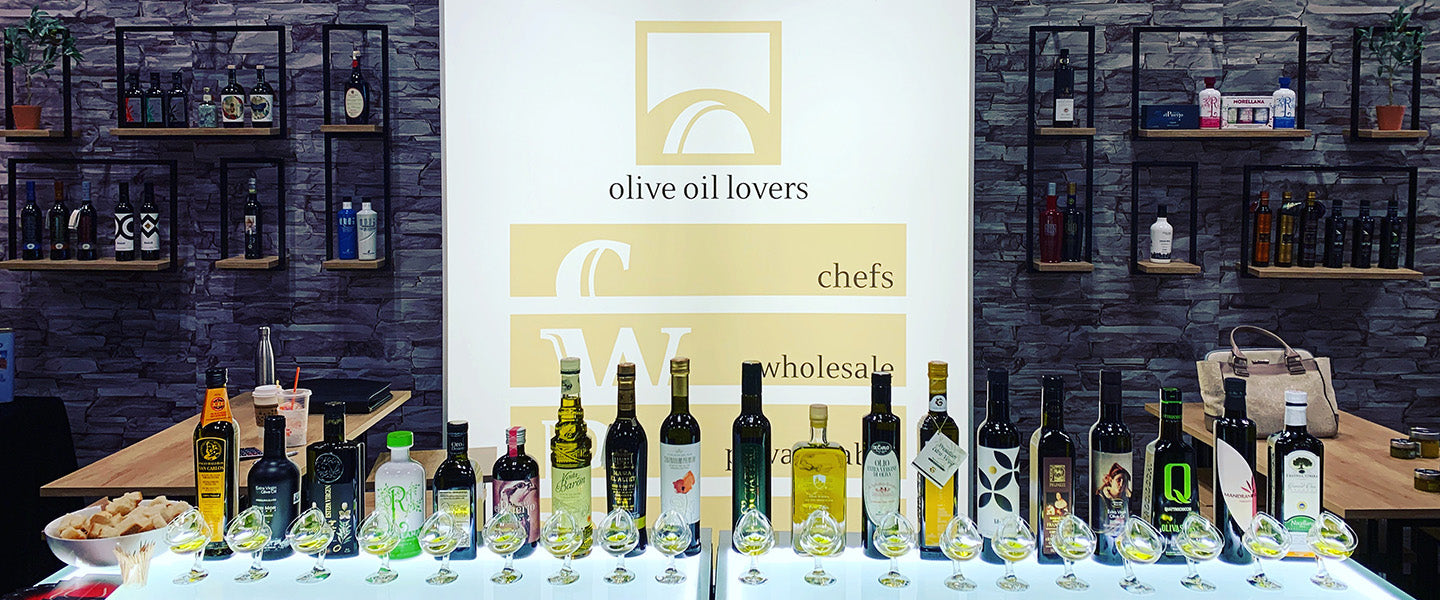 With 2022 coming to a close, the season of year-end lists is upon us!
This year we wanted to recognize both our best selling and most awarded olive oils of the year, and also acknowledge our producer partners that were celebrated in 2022. It's an amazing honor to be working with the wonderful people producing these incredible artisan oils!
Top selling product on Olive Oil Lovers in 2022:
This medium robust extra virgin olive oil is often recommended due to its high polyphenol count. Estepa Virgen is the signature olive oil produced by Oleoestepa, a cooperative of farmers based in Southern Spain. The regional certification for this product ensures that all olives were grown and crushed in the region of Estepa. Oleoestepa includes social responsibility mandates into their mission, so each bottle sold helps to create jobs and support their community. Read more about Oleoestepa.
Most Awarded Olive Oil of 2022:
No stranger to the upper echelon of olive oils, Rincón de la Subbética sits at the top of the list once again in 2022. Known for its aromatic tomato notes, this monovarietal Hojiblanca olive oil has both organic and regional certification to help confirm its quality and authenticity. A great starter EVOO for those seeking to discover the nuances of artisan olive oil, Rincón de la Subbética is also a favorite of many experienced tasters.
Rincón de la Subbética was the top ranked oil in 2022 by World's Best Olive Oils (WBOO). This non-profit organization compiles the results of the world's top olive oil awards and gives weight to each award based on the importance of the competition, ultimately creating an aggregate score of all award-winning oils each year. In all, Rincón took home the top prize in over a dozen competitions that we track, more than any other oil, including Best in Class awards at the London IOOC, EVO IOOC and SIAL Canada.
Almazaras de la Subbética, the company that makes Rincón de la Subbética, also ranked #1 in 2022 as the World's Best Olive Oil Mill for both organic and overall categories. The company's Parqueoliva Serie Oro, an impressive blend of oils from Picuda and Hojiblanca olives, was another highly rated product in 2022 with an 8th overall ranking from WBOO.
2nd Most Awarded Olive Oil of 2022:
Sabino Leone Don Gioacchino DOP Terra di Bari Castel del Monte
The signature olive oil of this family-owned company has been a regular presence at the top of many competitions in recent years. A monovarietal oil produced from Coratina olives, Don Gioacchino has regional certification from the Terra di Bari area of Puglia in Italy. With its strong herbaceous aromas and lovely almond finish, this oil won 1st prize for its category in 2022 at the prestigious Mario Solinas Quality Awards held by the International Olive Council.
This year Don Gioacchino was the 2nd ranked olive oil by WBOO, winning big Gold medals from EVOOLEUM and the Gambero Rosso Oli D'Italia guide, as well as Best in Class from Flos Olei and Best in Show at the Los Angeles IOOC. WBOO also has the Sabino Leone company as the 2nd ranked olive mill overall.
Other Notable 2022 Award Winners
What makes Olive Oil Lovers the top importer of extra virgin olive oil in the US? Our customers love the quality of the authentic olive oils we sell. Here's a list of more award-winning olive oils and producers in 2022:
Ranked 4th overall by WBOO, this monovarietal Picuda oil from Mueloliva won Gold medals at competition in Canada, China, Greece and Japan.
Also produced by Mueloliva, Venta del Baron was named Best in Class at competitions in Argentina and Japan, in addition to winning Gold from Monocultivar Olive Oil and Leone D'Oro.
This organic blend was winner of multiple Gold medals, as well as Best in Class at AIPO D'Argento. Producer Agraria Riva del Garda also took home a Best in Class award from Flos Olei for ULIVA, a stunningly aromatic DOP-certified oil made from Casaliva olives.
This olive oil produced from organic Picual olives grown on the Oro Bailen estate was recognized in WBOO's organic list, with awards including Gold at L'Orciolo D'Oro and Best in Class from Olive Japan.
Flos Olei is an important Italian publication recognizing quality production. This year several products from our partner producers were added to the Flos Olei Hall of Fame: Castillo de Canena Reserve Familiar Picual, Frantoio Bonamini DOP Veneto Valpolicella, and Viola il Sincero.
Top Olive Oils of 2022
Best Sellers & Award Winners
Shop All
Top Producers in 2022
From the Tabernas Desert of Southern Spain, Oro del Desierto was ranked 3rd by WBOO in the organic mill category, as both their monovarietal Hojiblanca and signature Coupage ranked among the top 10 organic oils in 2022.
Based near Rome, Quattrociocchi also ranked as a top organic mill in 2022, with Quattrociocchi Classico ranking high in the organic category. Flos Olei and Gambero Rosso added Quattrociocchi to their list of Hall of Fame producers, and Quattrociocchi Superbo was named Best in Class by 3 separate Italian competitions: EVO IOOC, AIPO d'Argento, and Gambero Rosso.
WBOO ranked Frantoio Franci in the top 10 mills overall, with Franci's Villa Magra winning Best in Class at the Los Angeles IOOC & their Villa Magra Gran Cru winning Best in Class from Monocultivar Olive Oil. Frantoio Franci also received Hall of Fame recognition in 2022 from both Flos Olei & Gambero Rosso.
Our Italian producers always appreciate recognition from the Gambero Rosso Oli D'Italia Guide. In 2022 Gambero Rosso named Puglia's De Carlo their Company of the Year, and the prize for consistent results over a period of years, Gambero Rosso's Hall of Fame, was awarded to several other producers found on OOL: Paolo Cassini, Tenute Librandi, and Viola.
The L'Orciolo D'Oro Awards named Mandranova their Farm of the Year for 2022.