Recipes

Pan-Fried Falafel with Tzatziki
Recipes
Pan-Fried Falafel with Tzatziki
Posted by Catherine Murray on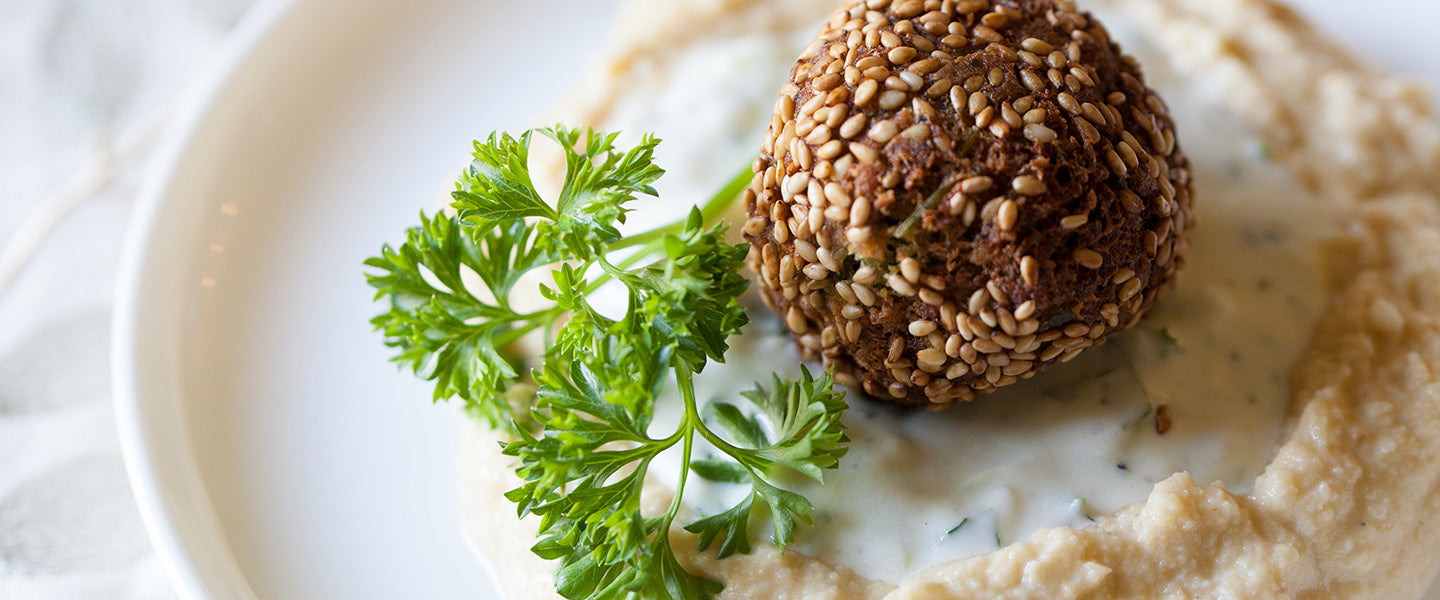 Around the world, falafel is as common on menus as burgers are. It's an easy, versatile, and satisfying meal. Serve as an appetizer, roll into a pita sandwich, atop a salad or a bed of rice with roasted vegetables.
Greek Garden Organic olive oil is smooth and well-balanced with a light finish to enhance the flavors of dishes such as hummus, Tzatziki and falafel. Using olive oil is a healthier option for frying, as it creates a thick crust that stops the oil from being absorbed into the food. Olive oil can be re-used 4-5 times and increases in volume when reheated, requiring less oil for frying.
Ingredients
For the Falafel
2 cups chickpeas, cooked and drained
1 small onion peeled, cut in half
½ cup chopped fresh curly parsley
3 garlic cloves, peeled
3 tbsp flour
1 tsp salt
2 tsp cumin
1 tsp ground coriander
1 tsp black pepper
¼ cup sesame seeds
2 cups olive oil for frying (try AMORIS Every Day)
For the Tzatziki Sauce
1 cup sour cream
¼ cup coarsely chopped cucumber
small handful fresh curly parsley
2 garlic cloves, peeled
1 lemon, juiced
2 tbsp olive oil (try Greek Garden Organic)
salt and pepper to taste
Directions
Make Tzatziki ahead. Place cucumber, parsley, and garlic into a small food processor and pulse until finely chopped. Transfer to small bowl. Mix in sour cream, lemon and olive oil. Add salt and pepper to taste. Refrigerate until falafel is ready.
In food processor, combine all falafel ingredients except sesame seeds and oil. Pulse until pasty and easy to roll into small 1.5 inch balls. Set falafel balls aside on a plate.
In a deep frying pan, heat the oil on medium-high. When you think it might be hot enough, drop a small piece of falafel batter into the oil. It should sizzle immediately, then turn golden brown in less than a minute. If it's smoking, turn the heat down. If it doesn't sizzle, wait a little longer or turn up the heat.
Place sesame seeds in a small bowl and roll each falafel ball in the seeds. (This will make the falafel coating crunchier and add a nutty flavor.)
Pick up a falafel ball with a non-plastic utensil and gently lower it into the oil. Repeat with a few more balls–don't crowd the pan. Cook each side until dark brown, 1-2 minutes then let drain on paper towels.
Makes 20 small falafel.