Grove Gazette

Newsletter

The Grove Gazette - Summer 2020
Grove Gazette
Newsletter
The Grove Gazette - Summer 2020
Posted by Olive Oil Lovers on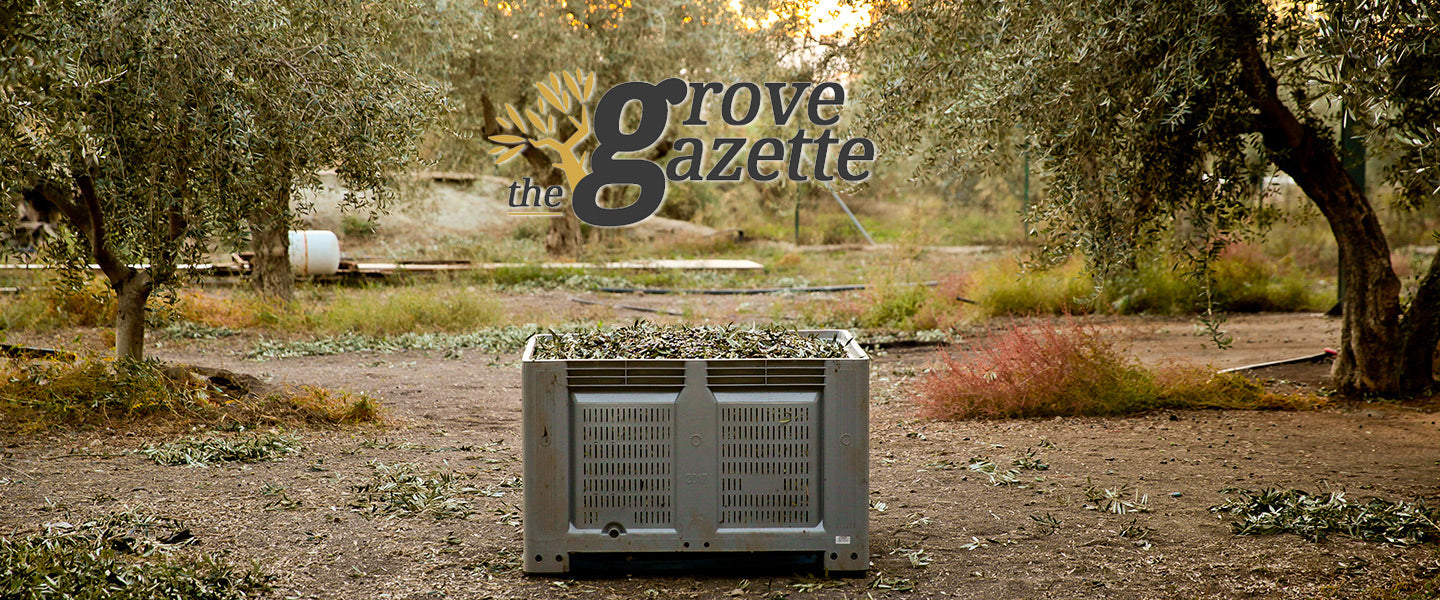 Olive Oil Lovers Newsletter, Summer 2020
Though the end of summer approaches, every wise Olive Oil Lover knows there's still lots to look forward to this year!
News
Learn how to taste EVOO with an Expert!
In case you missed our announcement last week, we're adding a new virtual Tasting Basics Class to our line of product offerings. Starting next month Expert Taster Alexis Kerner will be joining us each week from her EVOO Workshop in Andalusia, Spain. This private online session with a small group of fellow EVOO lovers will begin with the basics of how olive oil is made and then discuss how a master taster judges olive oil. Then together we'll sniff, taste, and go in depth about the flavors, nuances and food pairings of 3 distinct high-quality extra virgin olive oils, included with the price of class. Registration is now open. See below for more info.
World's Best Olive Oil Rankings
Perhaps the most common question we get asked is, "What's the best olive oil?" We love every oil in our catalog, so this isn't an easy answer for us! Luckily there's lots of international competitions each year, with Expert Tasters (like Alexis) who score the oils based on multiple factors. The non-profit organization World's Best Olive Oils compiles and scores the results from the most stringent competitions to create a list of the best oils and producers each year.
We were excited - though not surprised! - to see many oils from our shop at the top of these prestigious rankings. Rincon de la Subbética received the #1 ranking as the both the best EVOO and best organic EVOO for 2019-20, and its producer Almazaras de la Subbética ranked as the top mill in all categories this year. New arrivals to OOL this year, producer Sabino Leone ranked as the #2 mill, with their Don Gioacchino DOP ranking #2 overall. Olivastro from Quattrociocchi was ranked as the #4 organic oil this year, with the mill ranked at #5 in the world.
Other top ranked mills for 2019-20 include Frantoio Franci (4th), Oro Bailen (7th), Oro del Desierto (7th - Organic), Morellana (12th - Organic), and Nobleza del Sur (15th - Organic).
New & Restocked Items
This summer we had a few late arrivals and a few new products added to our catalog.
New arrivals this summer: ULIVA from Riva del Garda, Tamia Green Bag in Box available in 3L-5L-10L sizes, a trio of Egregio oils from Oleoestepa, Vinegars from Spain's Pago Baldios San Carlos, organic olives from Marina Colonna, and from De Carlo their Grilled Artichokes in EVOO and a tasty set of Bruschetta Spreads.
Select oils now back in stock: De Carlo il Classico, Guglielmi Intenso, Mandranova Nocellara, Nobleza de Sur Organic Day, Oro del Desierto Picual, and First Day Harvest & Biodynamic oils from Castillo de Canena.
Harvest season means Novellos!
Perhaps the best (only?) good thing about summer ending is that New Harvest Novellos will be right around the corner! This time of year our producers are fastidiously observing their groves, gently squeezing olives, kissing the soil and hoping for a well-timed (but not overwhelming!) late-summer rain to help push their olives to the finish line. Our Novello pre-order announcement will hit your inbox in about a month, so be ready!
OOL Content
"Biodiversity is our guiding principle." - Rosa & Francisco Vaño, Castillo de Canena
Though their family has been growing olive trees on their estate since the mid-1800s, siblings Francisco and Rosa Vaño formally formed their company, Castillo de Canena, in the last decade. Their focus on sustainable agriculture led to dramatic efforts to promote biodiversity on their estate, and these efforts have produced incredible results. Learn more about Castillo de Canena and their innovative steps to produce the highest quality olive oils in the latest addition to Olive Oil Lovers' Meet Our Producers spotlight series.
Check out this flashback to the first video ever made for OOL's "Find Your Crush" series: the First Day Harvest Arbequina from Castillo de Canena. Unfortunately the pandemic halted our progress on making more "Find Your Crush" videos this year. We hope to have some more for you in soon!
Review Spotlight
"This is a company that makes it wonderful to work with. They know their producers and help you find what you are looking for. The products are first quality. Rest assured, you will LOVE your dealings with this company." - OOL customer Mary W.
Products We Love
We love this product so much, we wanted to tell you about it again!
Olive Oil Lovers Tasting Basics is an amazing opportunity to bring your foodie-quest to the next level! You'll learn from an expert who has spent the last decade both working with producers in Spain and educating consumers. Our Expert Taster for the class, Alexis Kerner, has years of experience running olive oil tasting workshops. Alexis is also a judge for some of the most important competitions in the world, including EVOOLEUM and Ovibeja.
OOL is hosting a series of private classes - with high quality olive oil included - where you can learn how an expert works and get your questions answered. Group classes also available - bring your team together with a fun, gourmet group experience! We look forward to having you join us!
Recipe - Rataouille & Picual
The recipe for this edition of the Grove Gazette features the Family Reserve Picual from Castillo de Canena. This simple yet classic recipe features fresh produce and the exquisite Picual from our featured producer.
INGREDIENTS
1 tomato (crushed)
1 eggplant
1 zucchini
1 onion
1 red pepper
2 green peppers
2 cloves of garlic
Salt
Ground black pepper
Oregano
Castillo de Canena Family Reserve Picual
Peel the onions, zucchini and garlic. Remove the seeds from the peppers and then cut all the vegetables into small pieces and crush the tomato.
Add oil to a pan on medium heat. When hot, add in the onion. Once the onion starts to get soft, add the zucchini, eggplant, peppers and garlic, then lower the heat and let it cook slowly for a few minutes. Add the crushed tomato, oregano, black pepper and a pinch of salt to the pan. Leave it to simmer for 20 minutes, or until the vegetables are tender.
Taste and add more salt if needed, then remove the ratatouille from the pan and serve with a drizzle of Family Reserve Picual. Also delightful with a fried egg!
Olive Oil in the News
"Research has demonstrated that oleocanthal acts as a potent anti-cancer agent in triple negative breast cancer, which currently has limited therapeutic options."
Providing further evidence to the profound benefits of extra virgin olive oil, the National Cancer Institue and National Institute of Health agreed earlier this year to provide a Small Business Innovation grant to Oleolive to develop therapeutics based on oleocanthal, one of the potent polyphenols found in abundance in extra virgin olive oil.