Grove Gazette

Newsletter

The Grove Gazette - Spring 2020
Grove Gazette
Newsletter
The Grove Gazette - Spring 2020
Posted by Olive Oil Lovers on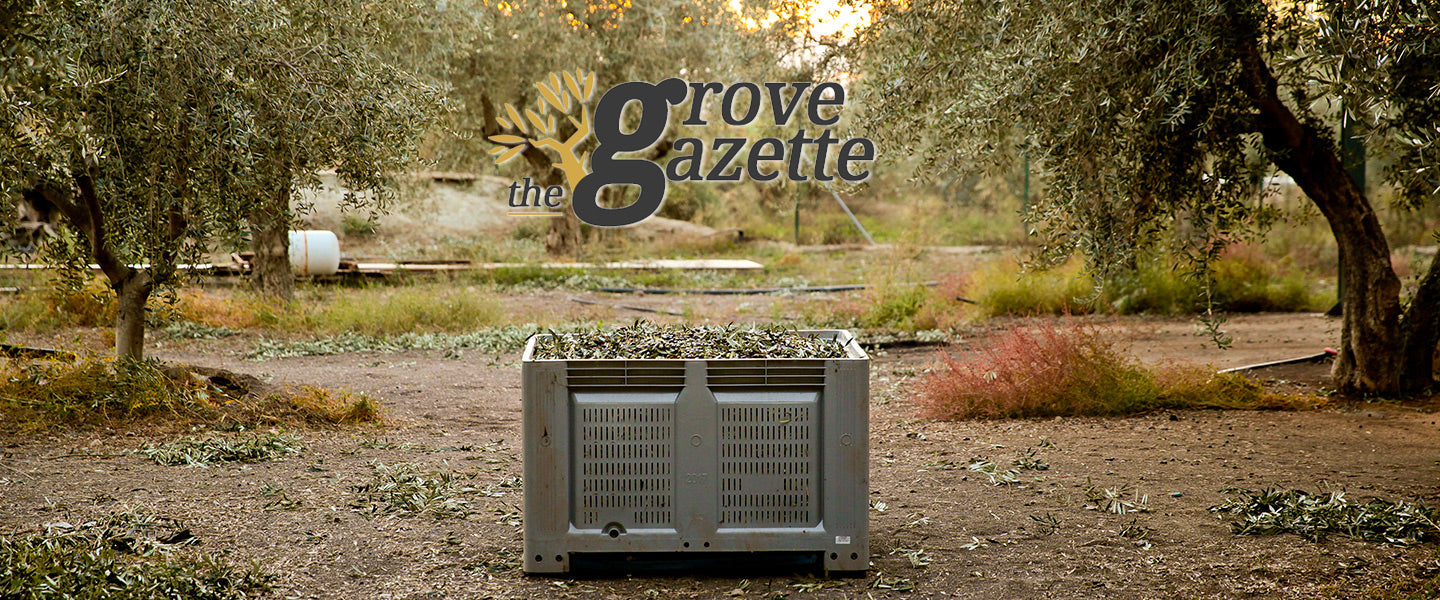 Olive Oil Lovers Newsletter, Spring 2020
We'd like to begin this edition of the Grove Gazette by thanking you, our wonderful customers. While much has been shut down across the world, we feel honored to still be able to work and serve our Olive Oil Lovers community. Today we're using this forum to continue building our community, not only by updating you about what's happening at OOL, but also by sharing stories with you from our producers overseas.
News
Superstars at the OOL Warehouse
While some of us at OOL have been able to work remotely during this crisis, we have needed our warehouse in Passaic, New Jersey to remain safely staffed in order to continue delivering our products to you. During these unprecedented times, it has been a challenge for anyone entering a workplace or public space where precautions are required for everyday interactions. While we must recognize and honor the humanity displayed by our first responders and hospital workers on the true front lines, we also want to acknowledge our amazing warehouse staff serving on the front lines of olive oil packing and delivery. So here's a big thank you to Bardh, Emel, Marisol, Edwin, David, Manny, and Pedro.
Busy Times at OOL
With the ongoing quarantines going on across the country, social media is teeming with reports of people staying home and cooking more. Our online sales recently can attest, with April 2020 setting a record for most first-time customers joining the OOL community. Some of you have been boosting those figures by referring friends and earning store credit through our Drizzle Rewards program. Thank you! You're great!
While our warehouse team continues to process all orders as fast as possible, team members are following all recommended measures to keep our employees, products and working environment safe. While currently unable to provide our usual friendly service by phone, send an email to help@oliveoillovers.com for any support needs. Thank you for your patience as we all find our way to make the best of this current situation.
Restocked Items
This week on OOL you can find our full selection of oils from the exceptional  Castillo de Canena, including a restock of their First Day Picual. Oils from South Africa's Morgenster Estate are also back on in stock. For all you Vinegar Lovers out there, there's new stock of several products, including the popular Mazzetti Liberty.
With so much action in our warehouse, many products were sold out within weeks of receiving them, particularly some of our bulk items. If you have something on your wishlist, it might be gone before you know it. If you haven't stocked up yet, consider one of our Bag-in-Box products. These are high quality extra virgin olive oils stored for maximum long-term freshness.
Discounted Novello
If you've been holding out for discounted Novello, today's your lucky day! Our remaining stock of the first day harvest unfiltered Oro Bailen Picual Novello, a product made exclusively for Olive Oil Lovers, is now on sale for $25. We're blowing out the remaining stock because this product has a "Best if used by" date of June 30, 2020. This was one of our favorite novellos this year. Its a big, fruity, flavorful oil unlike anything else we have in our store right now.
Mother's Day Orders
We could be biased, but we think extra virgin olive oil makes a great gift. If you're still hoping to get a nice bottle of EVOO for your Mom in time for Mother's Day, our free shipping option won't do. With many carriers currently experiencing delays, you'll need to select an expedited shipping option at checkout if your order must arrive on time.
OOL Content
"The team is part farmer, part artisan, and part archaeologist, always full of enthusiasm to inspire emotions through fragrances and flavors." - Lucia Iannotta
This edition of the Grove Gazette highlights the olive oils of Iannotta, a small family producer from Italy. Iannotta produces oils from the Itrana olive, a variety that thrives in the limestone hills south of Rome. Lucia Iannotta took over the family company in 2008 and through a blend of modernity and tradition helped turn the Iannotta brand into one of the best known worldwide. Iannotta Organic has been one of our most popular items this year. This oil is also available in a 3L Bag in Box.
You can learn more about Lucia Iannotta in the latest addition to Olive Oil Lovers' Meet Our Producers spotlight series. For an interview and tasting session with Lucia, watch Master Tasting: Iannotta, in which you'll also witness one of the most romantic olive oil groves we've ever visited. Watch more tasting videos on Facebook and our Youtube channel.
Review Spotlight
"As a wine importer, I really appreciate the level of passion to sourcing exceptional ingredients and caring for them through refrigeration. From the products to the customer service and price, you really get it right. This is a fantastic concept that we appreciate. We will be longtime customers!" - OOL customer Steven A.
Products We Love
As the primary importer for all the olive oils we sell, it's exciting for us to be able to shine a spotlight on the incredible products and the producers with whom we work. But we wanted to shake things up a bit here and feature our 2 original mix-and-match bundles. The first is our "Pick 6" Build Your Own Sampler product, which lets you choose 6 different 100ml sample bottles in OOL's original Pick 6 gift box. It's a great way to discover new oils.
The second product is our "Wellness Warrior" Build Your Own Bundle product, which gives you 10% off your purchase when you bundle from a select group of tins and bottles at a variety of price points. It's a product designed to help you keep your pantry stocked all year long with a discounted bundle of healthy and great tasting EVOOs to meet all your kitchen needs.
Recipe - Spaghetti Cacio e Peperoncino su Carciofo Romanesco
This is a recipe for an Italian pasta dish sent to us by Lucia Iannotta, which she calls, "my typical Roman recipe." This is a twist on the classic Cacio e Pepe, with Lucia swapping out the black pepper for peperoncino and presenting the dish as a nest of pasta on a bed of artichoke leaves. If you're still working on your Italian, the dish is called "Spaghetti with Cheese and Chili Pepper over Roman Artichokes." Our translation of the recipe isn't perfect, so let us know how you did!
320 g spaghetti
4 Roman artichokes
a tuft of Roman mint
80 g of pecorino romano
2 cloves of garlic
1 fresh hot pepper
half a glass of white wine
Iannotta Extra Virgin Olive Oil (just enough)
salt (just enough)
Clean the artichoke, cut the stem, remove the outer leaves and the tips. Finely chop the mint, chili pepper and garlic. Insert half of the minced ingredients between the leaves of the artichoke to the heart. In a pan heat 4 tablespoons of extra virgin olive oil, place the artichokes inside with the stem upwards and let it brown for a minute, then add salt and white wine to the pan. As soon as the liquid evaporates, add some water and finish cooking covered at medium heat.
In a separate pan, sautée the remaining minced garlic, mint and hot pepper in extra virgin olive oil, then add salt and water and boil during the cooking time of the pasta. Cook the spaghetti, drain when al dente and stir into the pan with the minced ingredients and water. Let that sit for a minute off the heat, then add all the pecorino and stir to make a sauce with the water mixture. Plate the leaves of the artichoke, add a nest of spaghetti on top and finish with some chili pistils. Serves 4. Buon appetito!!!!
Olive Oil in the News
In this special edition of EVOO in the news, we wanted to bring you reports from our olive oil producers about the impact of pandemic on their business and communities. When we share stories together, we strengthen our global community and work better towards a common good.
Rafael from Oro del Desierto
" The food industry has shown to be a flexible and innovative sector absolutely committed to the needs of the community. We hope the consumers will change to value more the true, healthy and sustainable food, such as EVOO, higher in their value scales after this pandemic is over. We'll prevail, improve and come back stronger, hopefully with better values and behavior as human beings in general. That's our goal and we'll work for that as we always did - and it's how 7 generations of farmers in our family before us did in even harder times and conditions than today. "
Salvatore from Frantoi Cutrera
" As you may already know, our family made a big investment in building a new factory - it is the dream of a lifetime. The project is already at an advanced stage of construction, and we had already ordered all the machinery because the goal was to move in September before the new harvest. The real problem is that the investment is co-financed for 50% by the European Union; if we do not complete the work, they will cancel the financing. So we are forced to complete the project otherwise we lose everything. "
Laura from Frantoio Franci
" It will be important to rediscover, where they were lost, the value and centrality of the customer and the respect of the supplier. In fact, customers will give us the strength to move forward and at the same time it will be the alliance with suppliers that offers the stability and trust that customers seek. The continuity and quality of these relationships will make it possible to return to work at maximum efficiency... Oil is the spokesperson for our culture, the secret ingredient for enhancing flavors and offering the customer a cuddle, an attention that might make the difference."
Saverio from Olio Guglielmi
" We keep taking care of our trees, we are pruning, using organic fertilizer and doing all kind of different works to ensure the best quality for the next production. It is hard at the moment to imagine what the future will be. We work in a sector that is still running, but our extra virgin is not a mass market product. It is for speciality stores, gourmet stores, and of course restaurants. Those are the ones that are suffering the most. People have find again the importance of being a group and fight together for something. All of us understand that we can come back stronger then before, but we have to do it together!"
Pilar from Magna Olea
" Small producers, like us, are facing delicate situation as time goes by and profit doesn't come to cover all the expenses. Our case in particular, we don't have permanent workers since the end of 2018 due to the increasing of costs with salary and taxes. In July 2016, 12 hectares of our olive grove suffered from a fire that postponed the growth of our production.
During the isolation time, we have been doing all the routine activities in the farm such as sanitizing the warehouse, washing bulks, weeding the olive grove, managing the vegetable garden and have a walk around the forest to pick some wild asparagus. No one knows how we'll overcome the social isolation and the profound crises ahead, but we are prepared to give our total support to the community when is needed and within our possibilities. Stay together!"
Nino from Sabino Leone
" This is a very difficult period, but I love taking the positive part of it. We are all rediscovering the value of small things, attentions, family. Fortunately we are continuing to work. We are grateful to work in a food, agricultural company. It makes us understand how important we are for the whole world. We are dedicated to producing good and healthy food to feed people. We have a very important task. We are planning the future, investing in the future, because we believe that everything will be fine and we will be stronger than before, the world will rise and change for the better."
Michele from Tenute Librandi
" We don't know what will happen in the near future, but we can't stop working our fields and taking care of our trees, as these are the most important things in our family business farm. We are a big family and trees are our brothers and sisters. Though they cannot understand what happens, they must be cultivated as every year, with the utmost care. We don't buy olives and our production comes 100% from organic farming, so we must be on the field every day to get a good result at the end of the season.
We have already given up shaking hands and hugging each other, and I think it is something really difficult for us Italians, but we have already succeeded. I think hugs and kisses are missing more than anything else. Having a coffee at the bar or going to eat a pizza with friends is bearable at the moment, but giving up a hug or a kiss, from a friend or family member, is the bloody hardest part of this strange story.
We feel privileged because we can spend part of the day outdoors, among our olive trees, so perhaps we can embrace them while waiting to be able to return to embrace our loved ones."
Lucia from Iannotta
" For many years my products have arrived all over the world, through shipping and couriers. During this pandemic, I also increased shipments to many locations in my country. However, when I can, I always try to personally satisfy requests bringing products to the home of my loyal customers. I cannot enter their homes; I can no longer drink coffee with them, but I leave the packaging at a safe distance. They look out the door and greet me from afar, with the promise of a new chat with coffee as soon as possible."