Recipes

The Ultimate Olive Oil Cake Recipe Guide
Recipes
The Ultimate Olive Oil Cake Recipe Guide
Posted by Olive Oil Lovers on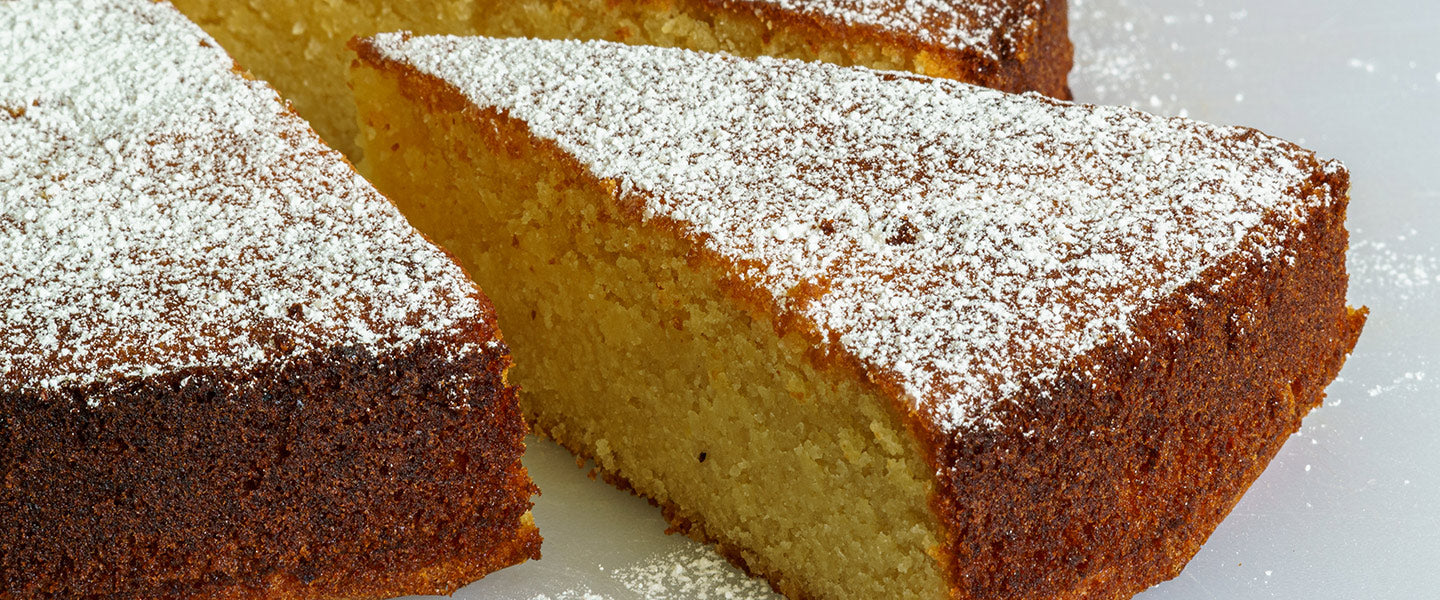 If you've been looking for just the right olive oil cake recipe, you've found your destination! We've put together a collection of the most delicious olive oil cake recipes out there, with lots of unique and mouth-watering variations. Of course there are lots of flavoring choices, like citrus cakes packed with zest, aromatic vanilla and almond cakes, rich chocolate cakes, and classic carrot cakes.
Olive oil cakes have some of the simplest, most foolproof recipes, you'll never want to go back to mashing hard chunks of cold butter! Most of these recipes can be completed in just an hour. Unlike traditional cakes, olive oil cakes can stay moist for days. But let's be honest, it probably won't last that long!
Why make cakes with olive oil?
When baking, substituting extra virgin olive oil for butter is a healthy option that can be surprisingly delicious. All extra virgin olive oils have a range of intensity from mild to robust, so while some versatile varieties work wonderfully with any bake, other oils might be too overpowering. When baking treats like cakes and cookies we always start by recommending mild options like a buttery Arbequina from Andalusia or fruity Koroneiki from Crete. Baking with a more intense olive oil can add delightful complimentary herbal notes to a lemon olive oil cake or a zesty orange olive oil cake.
Discover the best
Extra Virgin Olive Oils
Shop All
What is olive oil cake?
Olive oil cake is a cake made with flour, sweetener and a variety of other ingredients, depending on preferences, and using extra virgin olive oil as the primary fat instead of butter, margarine, or a vegetable oil (aka chemically-processed seed oil). When you replace butter with extra virgin olive oil you get a more moist cake and a treat with noted health benefits.
What does olive oil cake taste like?
An olive oil cake tastes like whatever flavor you make your cake! If you make a lemon olive oil cake or a chocolate olive oil cake, chances are no one will know it was made with olive oil. But your cake will be so moist and delicious, guests will be asking for the recipe!
Most olive oil cakes don't taste like olive oil unless you choose an intense or especially fruity extra virgin olive oil. In this case, you might notice some pleasant herbal or floral notes that compliment your primary flavoring and give your cake a more complex flavor profile.
If you want the benefits of an olive oil cake but don't want any noticeable flavor added from the olive oil, use olive oils that have a mild intensity like a Spanish Arbequina or Greek Koroneiki.  
What does olive oil do to a cake?
When you replace the butter in your cakes with extra virgin olive oil, you get a lighter and more moist cake that doesn't dry out quickly. In fact, some bakers notice their cakes taste even better the next day!
Is olive oil cake healthier than regular cake?
Extra virgin olive oil is the healthiest of all fats. So simply by replacing the butter in your cake recipe with extra virgin olive oil, you will be making a healthier choice. The monounsaturated fat in olive oil can improve heart health, while the natural polyphenols found in extra virgin olive oil provide many proven health benefits.
Can you bake with flavored olive oils?
Another great option for extra flavoring is to use a flavored extra virgin olive oil. Many flavored olive oils are produced by crushing the olives simultaneously with fruits or herbs  Flavored olive oil adds a unique flavor element that can be a fun choice no matter what you're baking. Try substituting Olio Guglielmi Crushed Lemon for the oil in your next batch of pancakes for a citrusy breakfast sensation!
Discover
Flavored Extra Virgin Olive Oils
Shop All
Click here for our butter to olive oil conversion chart.
Look through the slideshow below to find your recipe!
Olive Oil Substitution Guide
| Butter / Margarine | Extra Virgin Olive Oil |
| --- | --- |
| 1 teaspoon | 3/4 teaspoon |
| 1 tablespoon | 2 1/4 teaspoon |
| 2 tablespoons | 1 1/2 tablespoons |
| 1/4 cup | 3 tablespoons |
| 1/3 cup | 1/4 cup |
| 1/2 cup | 1/4 cup + 2 tablespoons |
| 2/3 cup | 1/2 cup |
| 3/4 cup | 1/2 cup + 1 tablespoon |
| 1 cup | 3/4 cup |
Because ingredient measurements are critical when baking, this index will help you adjust your recipe appropriately.