Recipes

Walnut Fig Biscotti w/ Lemon
Recipes
Walnut Fig Biscotti w/ Lemon
Posted by Olive Oil Lovers on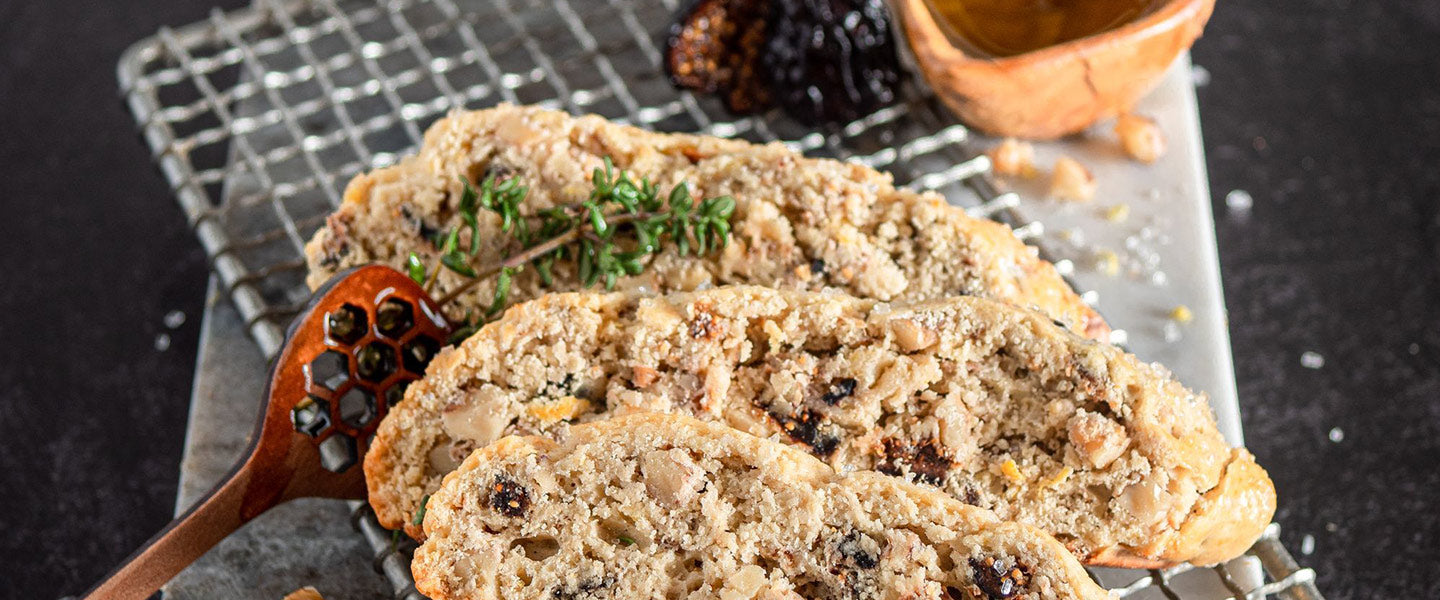 Biscotti are a family favorite with an addictive crunch that always satisfies. Though traditionally an Italian treat, this recipe highlights some of the classic flavors of Greece, with a blend of fig, walnut and lemon. It also features two amazing and aromatic products made in Western Crete: honey and olive oil from Entélia.
Sustainably-produced Cretan olive oil is part of an agricultural tradition that began thousands of years ago. Cretan farmers today remain grateful for the bees and sheep that frequent the wild herbs growing among their olive trees, as they play their part in this native ecosystem in which plants and animals thrive.
This biscotti benefits from the addition of these excellent Cretan products. The beauty of using olive oil is that it prevents the biscotti from getting too hard, producing a tender bite through the crunchy exterior. 
Yield: Two 8" x 2" Loaves ~ 20 Biscotti
What you'll need:
3/4 cup chopped walnuts

2-1/4 cups all-purpose flour

1/2 teaspoon baking powder

1/4 teaspoon baking soda

1/2 teaspoon sea salt

2/3 cup chopped, dried figs (stems removed)

1/4 cup lemon zest (using the larger holes of the grater)

2 whole eggs, beaten

1/2 cup Entélia Cretan honey

1/4 cup freshly squeezed lemon juice

1/4 cup Entélia extra virgin olive oil

1 teaspoon pure vanilla extract

1 egg white, lightly beaten

2-3 tablespoons coarse (decorating) sugar
Directions:
Preheat the oven to 350°F. Line a cookie sheet with parchment; set aside.
Place the walnuts in a dry skillet and toast over medium-low heat, frequently stirring, for 3-4 minutes; set aside to cool.
In a medium mixing bowl, combine the flour, baking powder, baking soda, and salt. Add the figs, lemon zest, and walnuts; toss to mix thoroughly. Make a well in the center of the mixture and add the beaten whole eggs, honey, lemon juice, olive oil, and vanilla; stir to incorporate well — do not over mix.
Turn the dough onto a floured work surface; oil hands as needed to prevent the dough from sticking to them. Cut the dough into 2 equal portions, and form each into an 8" x 2" log. Carefully place them 3" apart onto the prepared cookie sheet. Lightly brush the loaves with the beaten egg white and sprinkle the tops and sides with the coarse sugar.
Bake at 350°F for 25 minutes. Remove from the oven; let cool 20 minutes. Slide the loaves (leaving them on the parchment) onto a cutting board.
Cut the loaves on the diagonal with a serrated knife into 3/4" thick slices. On two parchment-lined cookie sheets lay the slices flat, with a bit of space between them for even baking. 
Reduce the oven temperature to 325°F and bake an additional 15 minutes. Transfer the biscotti to wire racks to cool.
Notes: If desired, melt 1/4 cup dark chocolate chips, add a few drops of olive oil, stir well, and drizzle over biscotti; let fully set before serving.
It's best to store the biscotti in a tin at room temperature to remain crunchy for up to two weeks or in a tightly sealed container in the freezer for up to two months.
Recipe by Susan Ojanen