Grove Gazette

Newsletter

The Grove Gazette - Summer 2021
Grove Gazette
Newsletter
The Grove Gazette - Summer 2021
Posted by Olive Oil Lovers on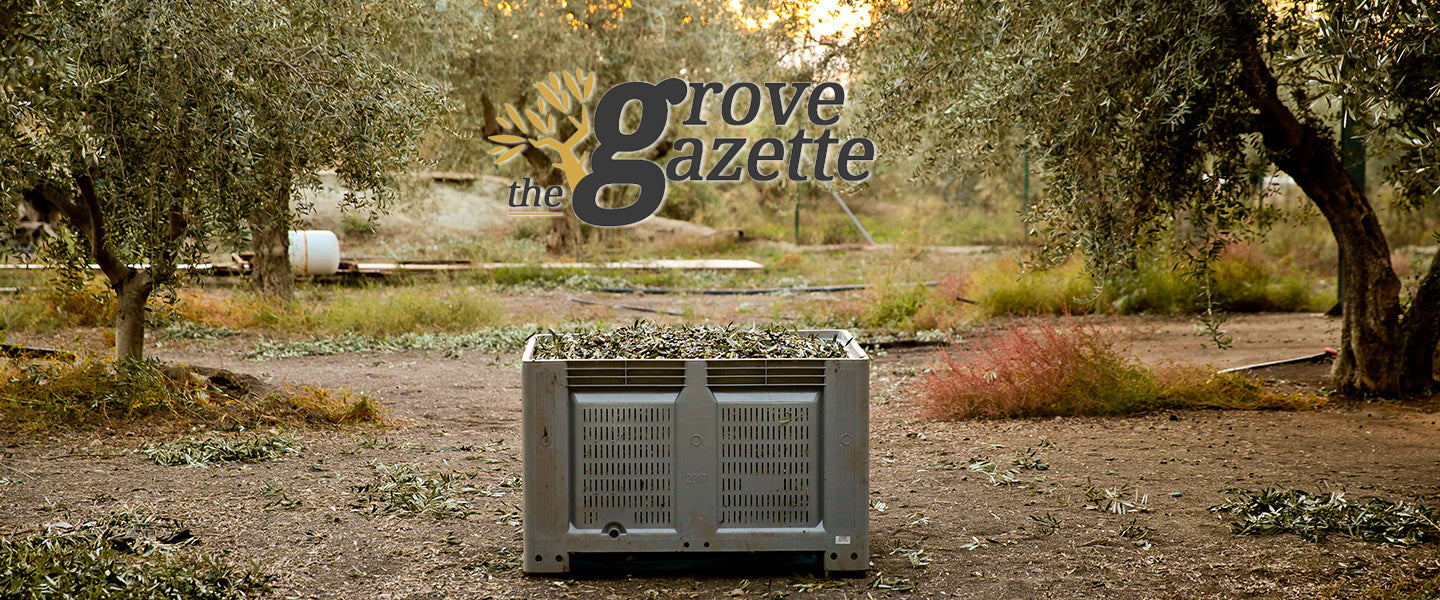 Olive Oil Lovers Newsletter, Summer 2021
Though the end of summer approaches, every wise Olive Oil Lover knows there's still lots to look forward to this year!
News
Looking Ahead to 2022
According to data collected by the International Olive Council, worldwide olive production in the 2021/22 crop year shows an expected decrease of about 7% compared to the previous crop year of 2020-2021. In Europe this production decrease will hit Italy and Portugal the hardest, with decreases of over 25% expected in both countries. Spain actually expects an increase in production over 20%, with Greece having only a small 1-2% decrease.
Despite this decrease in production, our producers' commitment to quality will be maintained; however, we may see a limited supply of some products arriving in 2022. Keep this in mind as we await these new harvest EVOOs, as we may only have limited quantities of some of your favorites oils from the areas affected.
Devastating Wildfires
When our producers discuss the challenges they face each year, many often cite the disruptions caused by extreme weather conditions related to the changing climate. Of course dealing with the weather is nothing new for farmers, yet virulent pests, drought and wildfires can decimate not only a year's harvest, but can force producers to replace entire groves of mature trees.
We've recently seen fires destroying areas of Greece, California, Sicily, and most recently the south of France. This devastation has affected our friends and partner producers, as well as dedicated OOL team members living and working in these areas. On behalf of everyone at Olive Oil Lovers, we want to extend our best wishes for a quick recovery to all those affected.
A new design for Olive Oil Lovers
In exciting news, in the next month or so we expect to launch a redesign of our website, with better subscription options, faster ways to checkout, and an improved layout to help you identify the right oil for your tastes.
We expect to launch just in time for our 2021 Novello preorders, so stay tuned as we move into our favorite time of year!
The Bridge
"We aim to be the bridge between you and the world's most dedicated olive oil producers."
Two of the keys words for us at at Olive Oil Lovers are Quality and Transparency. We only sell quality extra virgin olive oils, specially vetted by our tasting team, and aim for transparency to earn your trust in the products we sell.
This is what "The Bridge" means to us. You might not be able to visit a farmer in Tuscany or Crete or Córdoba, so we want to help create a connection between you and the amazing artisan producers who make the products we love. When you're ready to dive in for an in-depth look at your favorite producer, be sure to visit Olive Oil Lovers' Meet Our Producers spotlight series.
If you're still learning and discovering the world of quality EVOO, check out our latest video production, "The Bridge," for a quick intro to many of our favorite producers.
Review Spotlight
" Love ❤️ your site and products. I particularly like the information on each oil. The ability to filter by country and variety is important to me. I like to know about the oil I am buying. Your shipping and packing is great and products arrive safe and sound in a timely manner. Thank you. You really are for Olive Oil Lovers!" - OOL customer Diane M.
Products We Love
We love olive oil because it's not only super healthy, it also tastes great. These are 2 keys to enjoying life: staying healthy, and eating yummy gourmet treats!
Each year we try to add a few new unique pantry items to our catalog. This year we added delicate, crusty Fleur de Sel de Camargue, a unique salt collected by hand from the lagoons of France's Rhone River delta. We also now carry Spoon Sweets, made from 100% Greek fruit preserved simply with lemon juice and sugar. These decadent Spoon Sweets come in a variety of fruit flavors.
We've also added a selection of new pantry items from Crete's Entelia, including aromatic Thyme and Wildflower Honey, hand harvested Wild Cretan Oregano, and jumbo Prune Olives, with both sweet black and crunchy green olives available.
Traditional "Horiatiki" Greek Salad
For our summer Grove Gazette we're featuring a dish found on every table with nearly every meal in Crete: the Greek Salad, otherwise known as Horiatiki Salata.
While dead-easy to make, what really makes a Greek Salad taste like you're basking in the sun at an outdoor restaurant in Crete is the ingredients, and most importantly, the olive oil.
To make a traditional Greek Salad, be sure to seek out the ripest tomatoes, crunchiest cucumbers, an authentic Greek sheep's milk Feta and top it off with a premium Koroneiki olive oil from Crete.
What you'll need:
English cucumber, peeled, halved, and cut into half inch slices
Vine-ripe tomatoes, cut into large chunks
Green bell pepper, sliced
Onion, sliced
Sheep's milk Greek Feta
In a large bowl, combine the cucumbers, tomato, green pepper and onion and sprinkle with sea salt, then place a generous slice of Feta on top. Add some olives, sprinkle with a pinch of oregano and pour on the olive oil.
Also be sure to have some fresh bread on hand to soak up the remaining oil at the bottom of the bowl. For us, that's the best part!
Olive Oil in the News
"A container of olive oil produced, processed, sold, offered for sale, given away, or possessed in California that includes "California" in any form on its principal display panel and contains olive oil derived from olives grown outside California (must) disclose the minimum percentage of olive oil in the container derived from olives grown in California. The bill would prescribe specific language to make the disclosure and require that it be in the same font, size, and color as the word "California." - excerpt from CA AB 535.
In California there is a bill moving through the state legislature that will offer some protection to small, independent olive producers in the state. The bill would require olive oil products produced or sold in California to include the percentage of California olive oil contained in the product, with that text displayed with the same clarity as the word "California" on the bottle.
Here at Olive Oil Lovers we make great efforts to help consumers understand what the various labels mean on a bottle of olive oil, so we support any measure that helps eliminate confusion in the market.