Recipes

Green Bean and Lemon Linguine
Recipes
Green Bean and Lemon Linguine
Posted by Catherine Murray on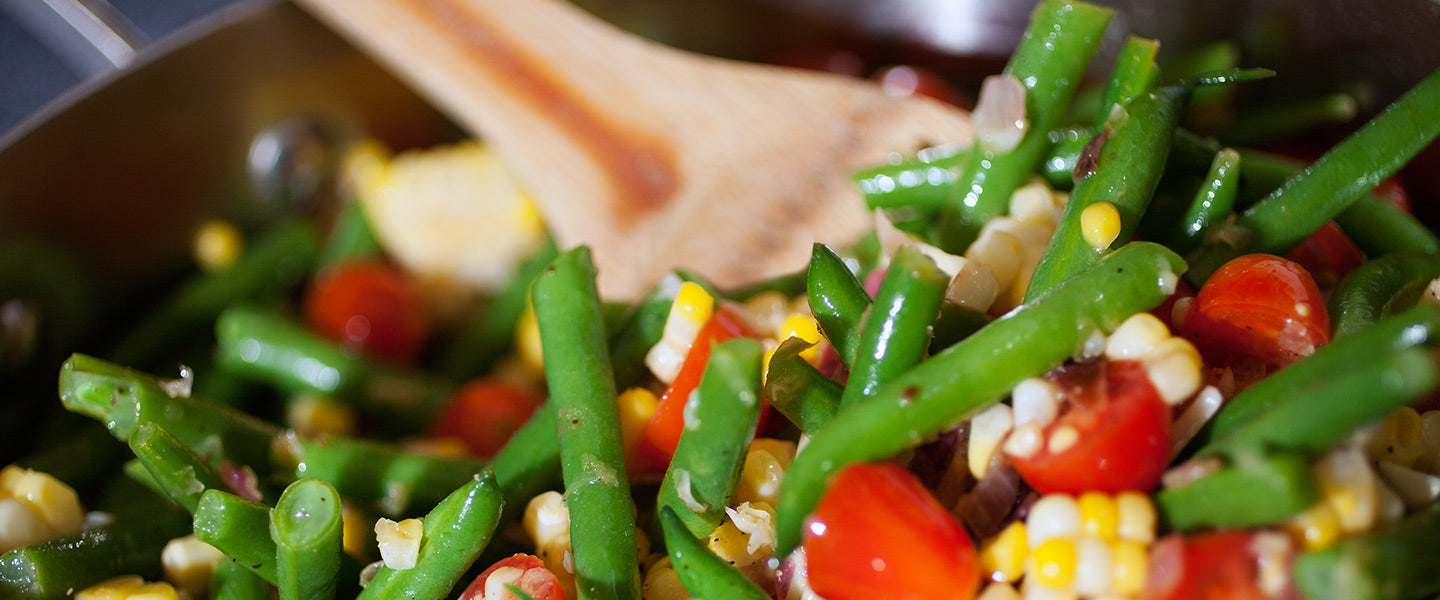 Farmers Markets are the food highlight of summer. Fresh green beans, corn, tomatoes, onions, garlic, basil…ingredients easily found at Farmers Markets at the height of the season. This pasta dish is hearty enough for dinner, but light and easy to make for those hot summer nights. Don't be surprised if this recipe becomes a summer staple.
All the vegetables take very little time to cook, saving your kitchen from excess heat. Have an extra large Farmers Market haul? Double the vegetable-to-pasta ratio with no harm done.
The Oleoestepa Seleccion olive oil is light, smooth and has a slight hint of tropical fruit which compliments the lemon. Additionally you can brush it on sliced bread, sprinkle with salt and pepper and bake for 10 minutes at 400°F for the perfect accompaniment to this pasta dish.
Ingredients
8 oz. dried linguine noodles
1 lb. green beans, ends removed and snapped in half
3 fresh corncobs, husked
1 pint grape tomatoes, halved
1 medium red onion, chopped
2 cloves garlic, chopped
2 large lemons, juiced
¼ c. olive oil (try Oleoestepa Seleccion)
1 c. vegetable broth
½ c. basil, chiffonade
1 tsp salt
½ tsp freshly ground black pepper
½ c. Parmesan cheese (optional)
½ c. heavy whipping cream (optional)
Directions
Bring a large pot of water to a boil over high heat. Add the corn and cook for 5 minutes. Remove corn, but do not drain the water. Rinse corn under cold water and set aside. Add the green beans to the boiling water and cook for 4 minutes. Remove the green beans, but do not drain the water. Rinse beans with cold water for 1 minute. Set aside.
Add the pasta to the boiling water, cover and cook until tender but still firm to the bite, stirring occasionally, about 10 minutes. Drain pasta and place in a large heatproof bowl.
Meanwhile, cut the corn off the cobs. In a skillet, warm the olive oil over medium heat. Add the garlic and onion. Sauté for 5 minutes. Add the broth, lemon juice, green beans, corn, and tomatoes and heat until warm. Pour over pasta. Add basil and toss lightly.
For a richer version, stir in ½ c heavy whipping cream and top with shredded Parmesan.