Recipes

I Can't Believe It's Not Butter… or Margarine
Recipes
I Can't Believe It's Not Butter… or Margarine
Posted by Dylan Ebbers on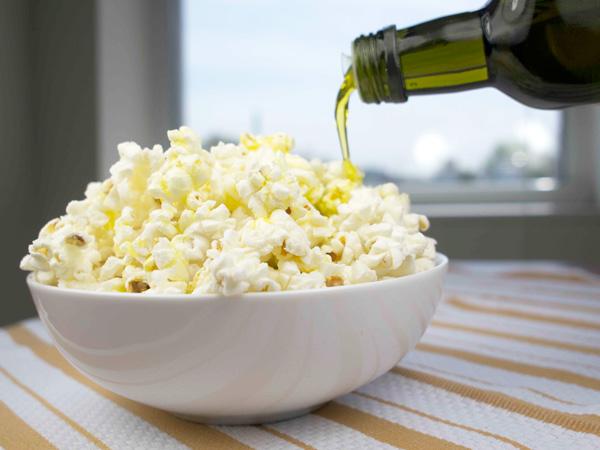 "This popcorn is very good. Good olive oil."
It was Kara's first time in New York City and she wanted to see the newest 007 movie. I was up for it, as anyone would be after a long weekend of playing tour guide in windy November weather.
We did the dance to find seats and agreed we were hungry. On my return from the lobby, Kara, a tech journalist from Istanbul (who is much more familiar with olive oil than any of my friends at 25), grabbed a handful of popcorn from the bag I had just bought. Her enthusiasm with the taste was startling, though, because it wasn't olive oil… it was butter.
I corrected her assumption later on but the thought of olive oil and popcorn was intriguing, specifically an oil that resembled butter. I clicked around Olive Oil Lovers for a while until I found Sciroppo, an Italian olive oil made from 100% Peranzana olives and a local variety in Puglia. I went into the back, opened a bottle and took a whiff – buttery, fruity, but not overwhelmingly pungent – which is what I was hoping for. The more pungent the oil, the more likely it will overpower a simple food like popcorn.
I dressed a bowl of organic popcorn and took my first bite… then a second… then a handful. Never have I tasted something so similar to butter that wasn't margarine. Sciroppo is a remarkably sweet oil with a very subtle, peppery aftertaste, and, like many olive oils, a bit addictive (the addictive qualities of olive oil come from an abundance of polyphenols –antioxidants also found in a glass or three of wine – a much healthier enhancement in contrast to the salt content of butter and trans-fats in margarine).
In the cooking world, olive oil has been known as a fat substitute for years. After some trial and error, however, consumers weren't able to replace the taste of butter with the average olive oil (example: a powerfully pungent Tuscan olive oil may not mix as well with baked goods). For us, each variety of olive oil has a special place at the table; whether it be an Arbequina on broiled fish, a Koroneiki on a tomato salad or a Moraiolo on grilled steak, each oil fits a flavor profile that can match a certain dish.
On this occasion, Peranzana is light enough to drizzle on popcorn and also very fitting for biscuits or grilled vegetables. For more hardcore olive oil fans, try drizzling Oro Bailen on your popcorn for that extra peppery kick!
Dylan Ebbers is Senior Director of OliveOilLovers.com.