Recipes

Olive Oil Dark Chocolate Mousse
Recipes
Olive Oil Dark Chocolate Mousse
Posted by Catherine Murray on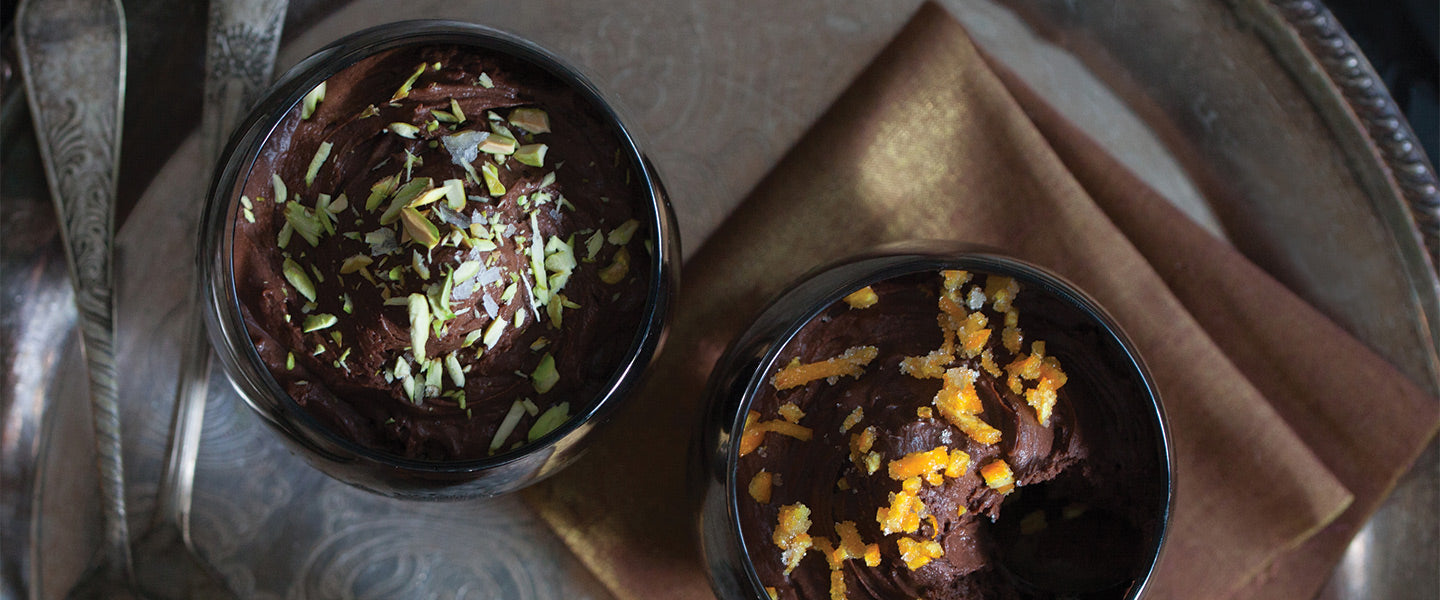 The kind of dessert you make to impress people, including yourself. Adapted from chef Jamie Geller.
Prep Time: 30 minutes
Cool Time: 4+ hours
Servings: 6
MOUSSE INGREDIENTS
10.5 oz. high-quality 75% cacao bittersweet chocolate, finely chopped
8 large eggs, separated, at room temperature
½ + ¼ cup granulated sugar
½ cup olive oil
1 tbsp finely grated orange zest
¼ tsp salt
OPTIONAL TOPPINGS
lavender buds
chopped pistachios and flaky sea salt
finely chopped orange rind/zest with granulated sugar
PREPARATION
Place chocolate in a small microwavable bowl and microwave for 10-20 seconds at a time, stirring in between, until smooth, about 1 ½ minutes. Set aside to cool while continuing to the next steps.
In a large bowl, whisk egg yolks and ½ cup of sugar until combined. Slowly whisk in olive oil, then orange zest and salt until combined. Slowly add the melted chocolate to the egg mixture and combine until smooth. Set aside.
In a standing mixer, beat egg whites until soft (not stiff) peaks form. Gradually sprinkle in the ¼ cup of sugar and beat until stiff peaks form.
With a rubber spatula, add a large spoonful of stiff egg whites to the chocolate mixture. Stir until well incorporated. Then switch to pouring the chocolate mixture into the bowl of egg whites. Gently fold with a rubber spatula until completely combined. The whisked egg whites are what give the mousse its light, airy texture.
Divide mousse evenly into 6 small bowls, ramekins or drinking glasses. Mismatched dishes are even cuter. Cover and refrigerate for 4+ hours. Generously sprinkle optional toppings and serve. Eat within 2-3 days.