Recipes

Olive Oil Pumpkin Bars Recipe
Recipes
Olive Oil Pumpkin Bars Recipe
Posted by Olive Oil Lovers on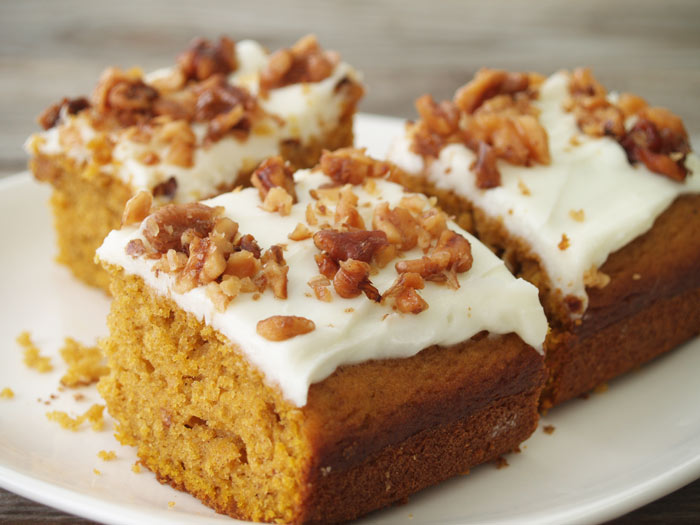 It's that time of year when pumpkin is on the mind like never before: Afternoon trips to pumpkin patches, carving out jack-o'-lanterns, roasting pumpkin seeds and baking-up some classic pumpkin bars. Just a few basic ingredients: flour, sugar, eggs, a can of pumpkin and some olive oil and you've got dessert.
Yes, that's right, olive oil can be used in nearly any dessert that calls for cooking oil, and why not? It's healthy, it's flavorful, and (hopefully) it's in your kitchen, so have no fear.
These pumpkin bars pair marvelously with a Spanish olive oil (try any Arbequina). The rich, almost tropical fruity flavors of an Arbequina olive oil pleasantly complement the sweet and spicy pumpkin batter. While much of the flavor of the oil mellows in the cooking process, it certainly creates some exciting aromas in the mixing bowl!
Top the bars with a simple cream cheese frosting with crumbled olive oil roasted walnuts and you have yourself the perfect dessert, made exclusively with olive oil, after your long afternoon in the pumpkin patch.
What you'll need:
4 eggs
2 cups sugar
1 cup extra virgin olive oil
1 can (15 oz) pure pumpkin
2 cups all-purpose flour
2 tsp. ground cinnamon
1/2 tsp. ground cloves
2 tsp. baking powder
1 tsp. baking soda
1 tsp. salt
For the Topping:
1 package (8 oz) cream cheese, softened
1 cup powdered sugar
1 cup walnuts pieces
2 tbsp. extra virgin olive oil
2 tbsp. brown sugar
dash of ground cinnamon
dash of salt
Directions
In a large bowl, beat the eggs together with the sugar, olive oil and pumpkin until well combined. In a separate bowl, combine the flour, cinnamon, cloves, baking powder, baking soda and salt. Slowly mix-in the dry ingredients with the pumpkin mixture until all ingredients are incorporated the pour the batter into an ungreased 15 x 10 inch baking pan. Bake at 350°F for about 25 minutes, or until a toothpick inserted into the cake comes out clean. Set aside to cool completely.
For the topping, combine the walnuts, olive oil, browns sugar, cinnamon and salt in a bowl and stir until the walnuts are well coated. Spread walnuts evenly on a baking sheet and bake at 325°F for about 10 minutes, or until just lightly toasted. Set aside to cool. Meanwhile, mix together the cream cheese and the powdered sugar and spread on top of the cooled bars. Sprinkling walnuts on top to finish.
Yield: About 20 bars