Recipes

Pan Seared Lamb w/ Baba Ghanoush and Cauliflower Popcorn
Recipes
Pan Seared Lamb w/ Baba Ghanoush and Cauliflower Popcorn
Posted by Jesse Rockwell on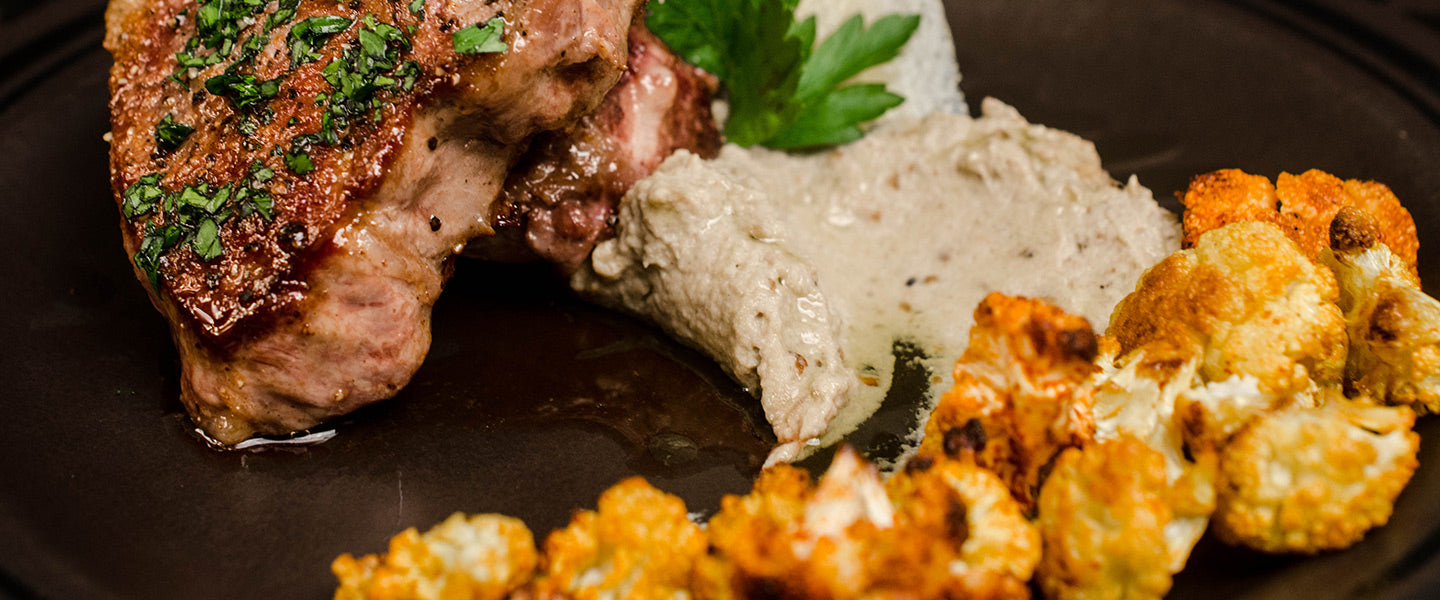 I have always had an interest in Middle Eastern food. The subtle use of spices, and unique array of produce makes for some seriously good eats. In fact, during my years in Bangkok, I often found myself foregoing my usual spicy papaya salad for the restaurants of the small Middle Eastern district, where I could be found munching away on Biryanis and Shawarma wraps.
Baba Ghanoush is a simple, eggplant based recipe from Israel and Lebanon. Traditionally the eggplant is charred over an open fire, but an oven broiler will easily achieve the same result! For this recipe I used  Oro Bailen Reserva Familiar Arbequina oil from Spain for its wonderful lightness and fruity qualities, which perfectly compliments the flavor of the eggplant.
Ingredients
1 large eggplant
1 head of cauliflower
8 lamb loin chops
3/4 c olive oil (try Oro Bailen Arbequina)
5 cloves garlic finely chopped
3 T tahini (sesame seed butter)
2 lemons, juiced
2 T chopped parsley
2 T smoked paprika
2 T turmeric
salt and pepper to taste
Directions
For the Baba Ghanoush:
Preheat your oven to 450 degrees cut the eggplant into 6 or 8 pieces lengthwise and rub liberally with olive oil. Place flesh side up on a baking sheet bake for 35-45 minutes until flesh is soft throughout. Turn oven to broil, and allow edges of eggplant to blacken slightly.
Remove from oven and carefully remove the skins of the eggplant. Add hot eggplant to food processor with garlic, tahini, and half the lemon juice.
Pulse until the eggplant begins to break down, then turn on food processor and slowly add oil until a smooth yet firm consistency is achieved (I used around 6 T of oil). Season to taste with salt, pepper, and more lemon juice if needed.
For the Cauliflower:
Preheat oven to 425 degrees. Cut cauliflower into small florets (no more than 1 inch diameter) discard reserve stems for another use.
Divide the cauliflower evenly between two bowls and add 2 T oil, salt and pepper to each bowl. Season 1 bowl with paprika, and the other with turmeric, tossing very well to coat.
Bake 45 minutes, turning every 15, until golden brown.
And finally…for the Lamb:
Bring a large skillet to medium-high heat with 2 T oil. Pat dry and season both sides of lamb chops with salt and pepper.
When oil begins to release first smoke, add the lamb chops. Cook to desired doneness (for medium rare ~3 minutes per side). Rest for 5-10 minutes at room temperature before devouring.