Recipes

Pappardelle Pasta with Mushrooms & Shallots
Recipes
Pappardelle Pasta with Mushrooms & Shallots
Posted by Eva Kosmas Flores on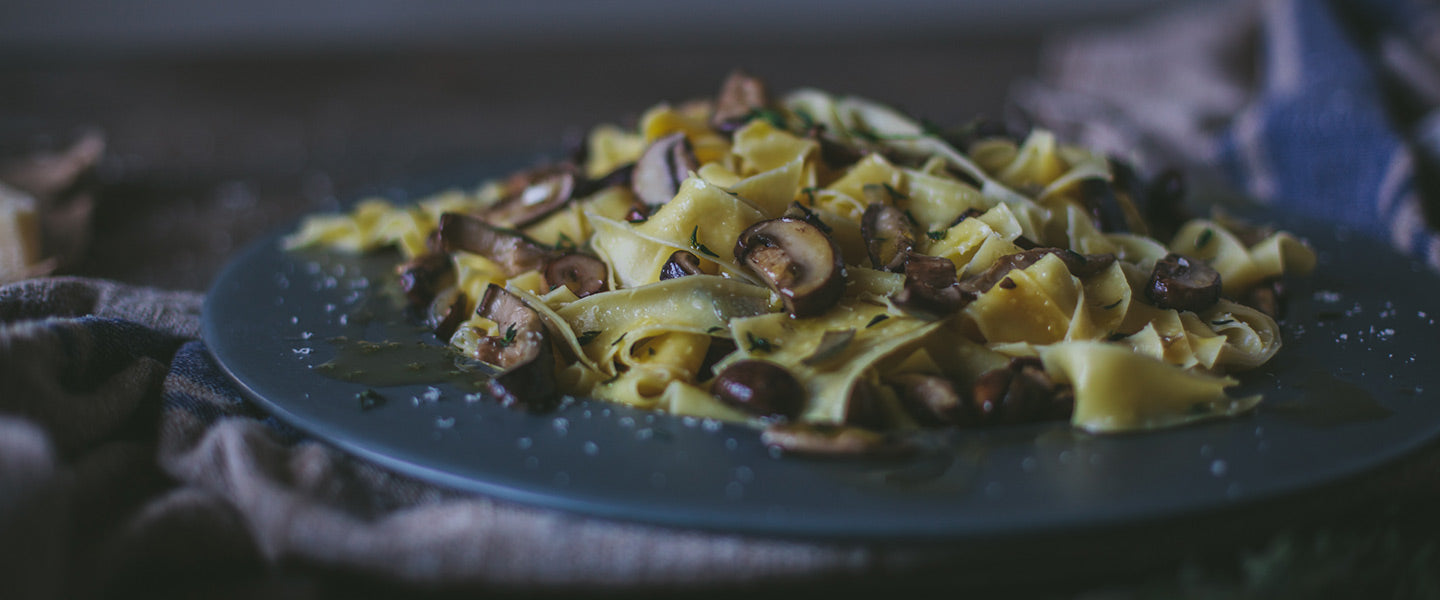 Mushrooms, pasta, and olive oil have been good friends throughout the culinary history of Italy, and in this dish they all shine through with bright and clear flavors. The thick-cut pappardelle noodles get thickly coated in the deeply flavorful olive oil, and the earthy umami flavors of the mushrooms seep throughout the entire dish. Toss in some fresh thyme and you have pure perfection.
Ingredients
8.8 ounces dried pappardelle noodles
3 garlic cloves, minced
1 large shallot, diced
1/3 lb crimini mushrooms, cut into 1/2-inch slices
1/3 lb shiitake mushrooms, cut into 1/2-inch slices
1/4 cup plus 3 tablespoons olive oil (Try ULIVA DOP Garda Trentino)
1/4 teaspoon salt
1 tablespoon plus 1 teaspoon minced fresh thyme
1/4 cup freshly grated parmesan cheese
Directions
Heat 1/4 cup of olive oil in a large frying pan over medium heat. Add the garlic and shallots and saute until softened slightly, about 5 minutes.
Add the mushrooms and saute until they're lightly browned and the shallots have caramelized, about 20-30 minutes, stirring every 5 minutes.
While the mushrooms are cooking, you can prepare the pappardelle according to the package directions. Right after you drain the noodles, pour 1 tablespoon of olive oil over them and toss gently to coat the noodles in the oil. Empty them into a large bowl.
Empty the pan with the mushrooms, garlic, and shallots into the bowl and add salt, thyme, parmesan, and the remaining 2 tablespoons of olive oil. Toss gently to combine. Serve immediately.