Recipes

Pasta Tonnato Conservati
Recipes
Pasta Tonnato Conservati
Posted by Jesse Rockwell on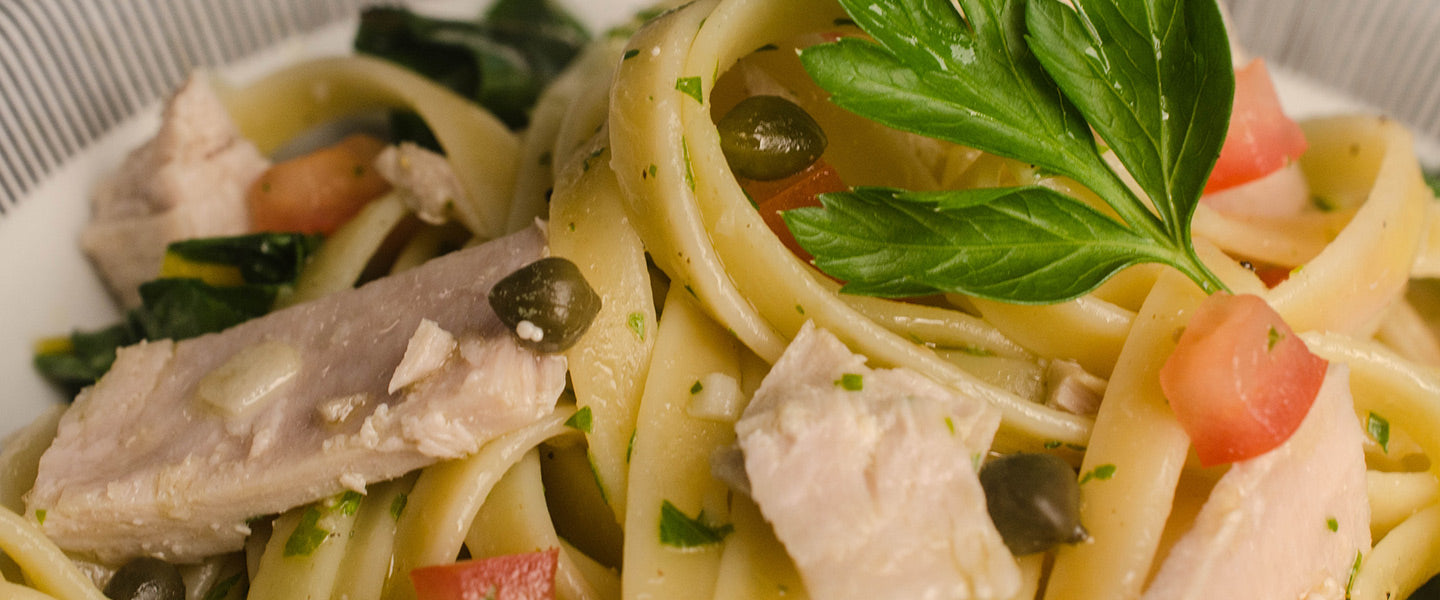 If you've ever had the fortune to try imported French or Spanish canned Tuna, you'll know it's a whole different affair from the bland, grainy fish available in most stores in the US. This recipe aims to recreate that tender and succulent (not to mention expensive!) imported product. Don't worry, it's easy!
Using a quality olive oil infused with classic flavors to lightly poach, or confit the tuna, we can impart delicate flavor and wonderful texture. For this recipe I chose to use My Olive Tree extra virgin olive oil for its subtle vegetal flavor, and neutral acidity. Cooked tuna does not hold a dominating flavor, so we need a subtle olive oil that won't overtake the delicate flavor of the fish. Once cooked, this tuna can be held in oil in the fridge for up to ten days, and has a multitude of applications. Here we will make a fresh and light summer pasta dish with bitter greens, lemon, parsley and capers.
Ingredients
For the Tuna:
1 pound fresh Ahi Tuna steaks (look for a deep red color)
2 T Capers
2 cups EVOO (try My Olive Tree)
3-4 sprigs thyme
3 cloves crushed garlic
1 T lemon zest
1 t salt
For the Pasta:
1 box linguine (or your favorite pasta)
4 T reserved oil from tuna
2 tomatoes, deseeded, diced small
1/3 cup finely chopped parsley
2-3 finely chopped garlic cloves
3 T capers
2 T capers liquid
½ pound tuna conservati, flaked
1 Lemon, juiced
1 C of bitter greens (chard greens or arugala would do)
Lemon slices for serving
Directions
For the Tuna:
Add all ingredients, except tuna, to a narrow, deep saucepan over medium heat.
Wait for the ingredients to begin lightly bubbling, stirring well.
When ingredients are steadily bubbling, turn heat to low, and add tuna.
Ensure all tuna coated in oil, and baste repeatedly for 5-7 minutes (depending on thickness of tuna).
When tuna is firm, remove tuna from heat and allow to cool to room temperature.
Hold tuna in fridge overnight for best flavor (optional).
For the Pasta:
Bring a large pot of water to a boil. Add in a pinch of salt and the pasta.
While the pasta is boiling, bring a large pan to medium-high heat and add 2 T of the oil in which the tuna was cooked.
Add bitter greens, and toss well to coat. When greens are softened, add garlic and cook for 1-2 minutes.
When your pasta is cooked and drained, add capers, caper juice, and pasta to pan.
Add flaked tuna and chopped parsley. Toss well to coat all the pasta.
Pour juice of 1 lemon over pasta. Check for seasoning, add salt and pepper as needed.
Serve hot, topped with cubed tomato, and a lemon wedge on the side.
The remaining tuna can be held in the fridge for up to ten days in oil, and be used as normal canned tuna would. Hint: Worlds best tuna sandwiches!