Recipes

Potato Zucchini Latkes
Recipes
Potato Zucchini Latkes
Posted by Catherine Murray on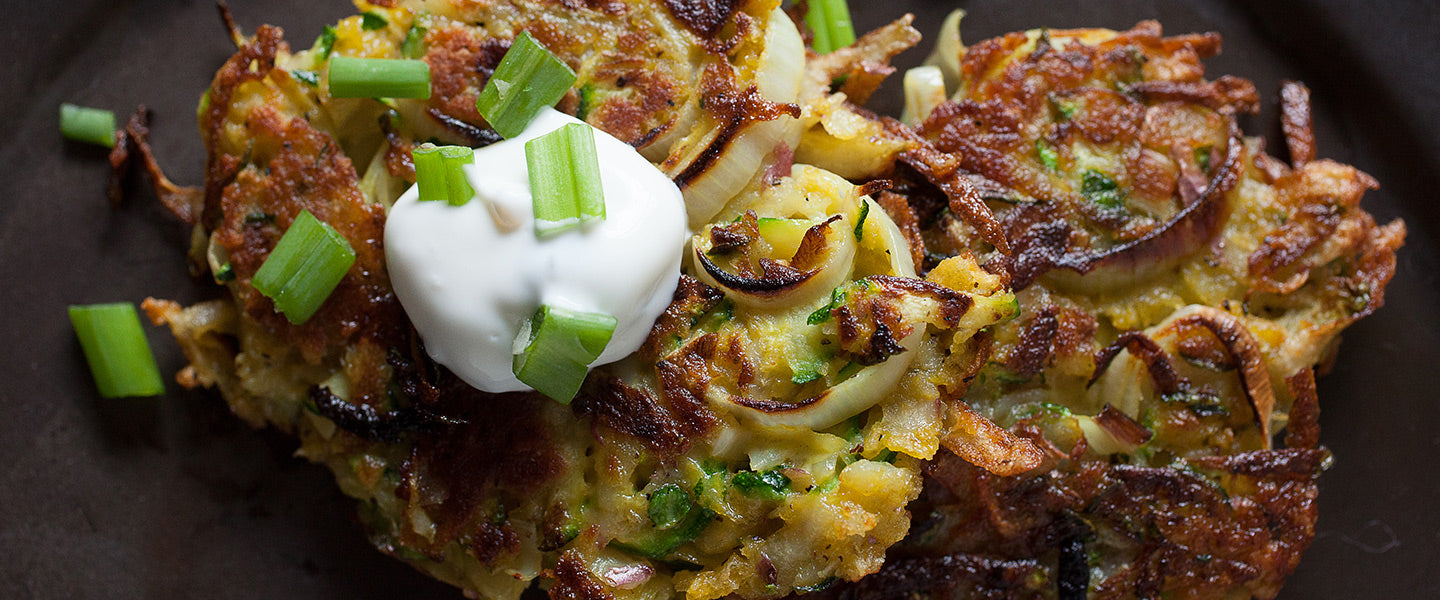 What is it we're always searching for when we're tired of figuring out dinner? Something simple, cheap, fast, and not too decadent or too healthy. Latkes cover all the bases. Grate up a few batches of potatoes and zucchini to throw in the freezer for when you're really in a rush.
The thing to love most about this recipe is the ratio of ingredients can easily be adjusted to accommodate on-hand ingredients. Don't have flour? Skip it. Have extra zucchini? Throw it all in. No leeks? That's alright, substitute with shallots or green onion. Grate an entire apple and throw it in–it's all good. Keep an eye on the wet-to-dry ratio when adjusting, the mixture should easily bind together without dripping or falling apart.
Oro Bailen Picual is fruity with notes of fresh herbs, artichoke and golden apple and additional spicy notes of field grass and green vegetables with a sweet almond aftertaste. The complex flavor profile lends itself well to this simple dish.
Ingredients
For the Latkes (makes 8 patties)
1 medium/large red potato
1 small zucchini
1 leek (white part only), sliced
1/2 cup Panko bread crumbs
4 tbsp. flour
1 C olive oil (Try Oro Bailen Picual)
1 large egg
1/2 tsp. salt
1/4 tsp. black pepper
For the Garnish
1/4 cup sour cream
1 tbsp. extra virgin olive oil
2 green onions (green part only), sliced
1 tbsp. chopped garlic
2 tbsp. lemon juice
1 large apple, sliced
2 tbsp. brown sugar
Directions
With a large box grater, coarsely grate the potato and zucchini. Place mixture in the middle of a clean dish towel and wring out the excess liquid.
In a large bowl, combine the potato mixture, sliced leek, bread crumbs, flour, egg, salt and pepper. Stir to evenly incorporate.
In a large skillet, heat 2 tbsp. olive oil. When oil is hot, gather a small handful of potato mixture and mold into a loose patty. Carefully drop patty into the pan. If oil is popping, lower heat just a bit. A few latkes can be cooked simultaneously, leaving about an inch space in between them. Cook approximately 3 minutes per side, flipping with a spatula. Transfer cooked latkes to a serving plate. Repeat with remaining mixture, adding more oil to the pan each time.
Quickly slice up a large apple. When the latkes are done, add tablespoon of oil to the pan, then sauté apple slices with brown sugar for two minutes, or until soft.
For garnish, mix sour cream, half the green onion, garlic, and lemon juice in a small bowl. Serve latkes with a dollop of the sour cream mix on top and sautéed apples to the side. Sprinkle dish with remaining green onion.