Recipes

Spinach Lentil Soup
Recipes
Spinach Lentil Soup
Posted by Olive Oil Lovers on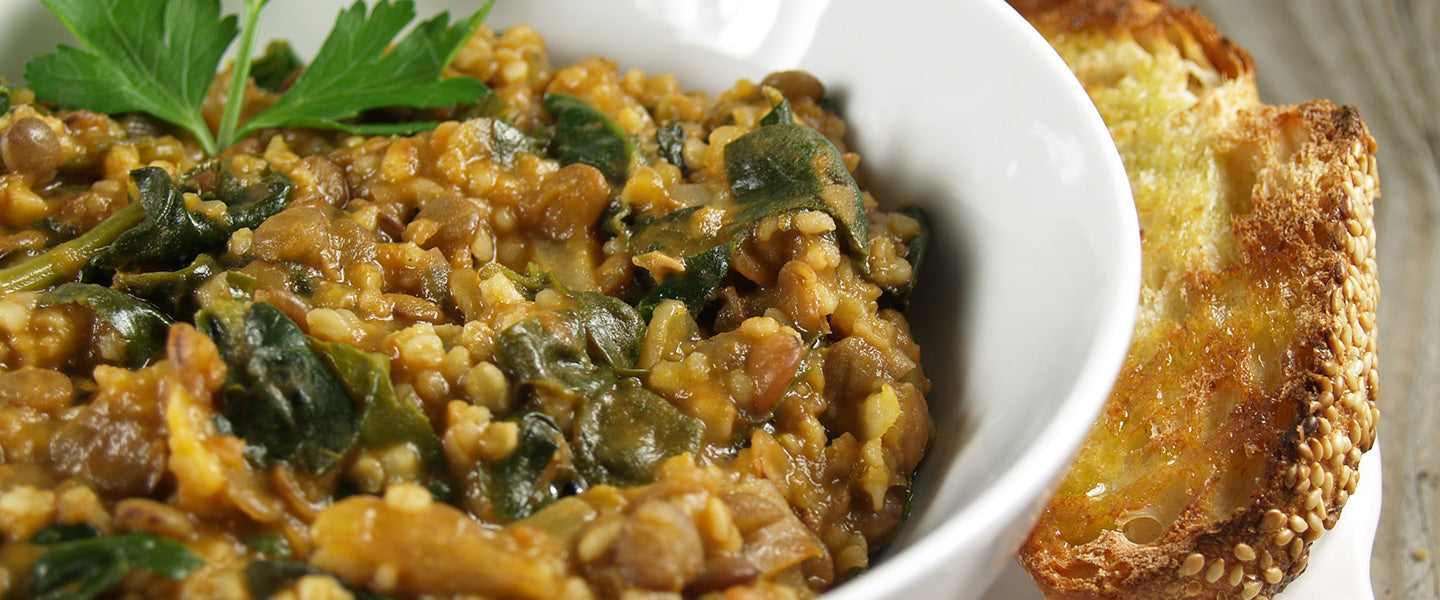 With Spring still struggling to make its appearance and cold temperatures hanging on until the bitter end, why not keep warm with a healthy bowl of spinach lentil soup in the meantime? Quick and easy to make and with a little kick of Cayenne, this soup is sure to warm you up on these all-too-chilly Spring days.
What you'll need:
1 cup dried lentils
5 cup vegetable stock or water
1 tsp. sea salt
1/4 cup extra virgin olive oil
1 large onion, chopped
3 garlic cloves
1/4 tsp. cayenne
2 bay leaves
1/2 cup raw bulgur
1/4 cup fresh parsley, chopped
2 large ripe tomatoes, grated for juice (or 1/4 cup tomato paste)
1/2 tsp. fresh rosemary, chopped
Salt and fresh cracked pepper to taste
2 cups fresh spinach, chopped
Directions
Begin by rinsing the lentils, then bring the lentils, vegetable stock or water and sea salt to a boil. Reduce heat and simmer, covered, for 40 minutes.
Meanwhile in a heavy soup pot, sauté the onions until translucent, then add the garlic, cayenne, bay leaves, and raw bulgur. Stir the mixture on medium heat until the bulgur is lightly toasted, then stir in the parsley and freshly grated tomato or paste.
Next, pour the lentils and their liquid into the soup pot with the other ingredients. Simmer for 15 more minutes, adding more liquid if necessary, then add the fresh rosemary, salt and pepper to taste.
Just before serving, remove the bay leaves and stir in the fresh spinach letting it wilt in the hot soup. Garnish with fresh parsley and serve with toasted bread drizzled with extra virgin olive oil.
Yield: 6-8 servings