Recipes

Roasted Garlic Hummus
Recipes
Roasted Garlic Hummus
Posted by Catherine Murray on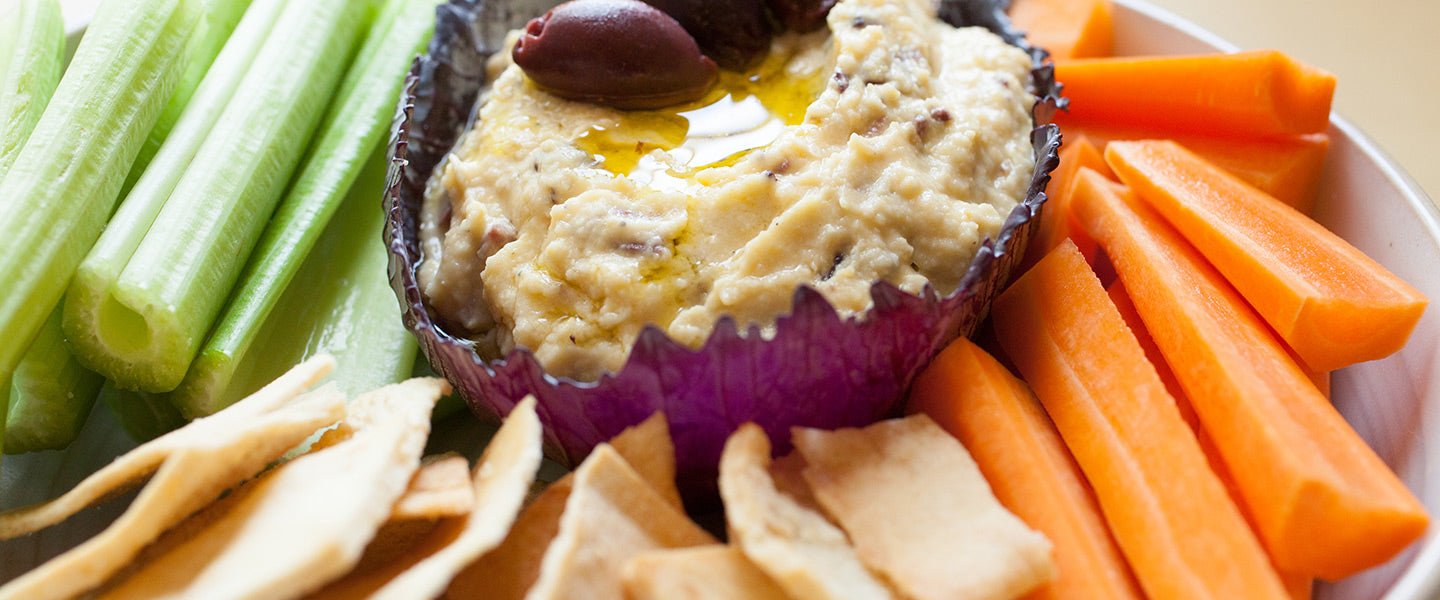 Hummus is a common dish, yet each time it tastes so different. Some are nutty and smooth, others are chunky with a strong punch of garlic or lemon. Each addition, whether it's paprika, red pepper or parsley, changes the dish into an entirely new experience. The best thing about hummus is it's easy to experiment with.
Don't get hung up on following the recipe exactly. Add each ingredient to the chickpeas in stages and taste as you go, deciding what to add more of and what's already working. Keep trying new ingredients to find your favorite combination.
It's easy to create multiple dishes with the same batch of hummus. Use as a dipper with fresh veggies and pita wedges, spread on a bagel, or top a Greek salad. It can even be used to thicken soups, crust fish, or replace pizza sauce.
Tagalakis Elaiones olive oil, produced near Kalamata in Greece, has a nutty, almond-like quality and is slightly bitter, adding depth to the hummus without complicating the flavor profiles.
Interesting Fact: Contrary to popular belief, when Kalamata is mentioned on olive oil labels it is actually referring to the region of Greece and not the table olive we're all so familiar with. The majority of Greek olive oils are pressed from Koroneiki olives.
Ingredients
2 15oz. cans chickpeas (garbanzo beans)
1 medium head of garlic
½ cup + 3 tsp olive oil (try Tagalakis Elaiones)
1 c. Kalamata Olives, pitted
1 large lemon, juiced
¼ tsp salt
ground black pepper
Equipment Notes: Have aluminum foil handy for roasting the garlic. It's best to use a food processor to achieve a smooth hummus texture, but a blender or even a potato masher will suffice, with a chunkier result.
Directions
Preheat oven to 400°F. Chop the very top off the head of garlic, exposing the individual cloves (about ¼ inch from where the stem starts).
Start to wrap the garlic head in a piece of aluminum foil large enough to cover it, leaving the top exposed. Drizzle a couple teaspoons of olive oil over the cut cloves. Seal with aluminum foil. Bake for 30 minutes, or until the cloves feel soft when pressed. Let cool.
Drain and rinse chickpeas. Place in food processor and pulse for 30 seconds. Take a spoon (a grapefruit spoon or cocktail fork works well) and pull the roasted garlic cloves out of the garlic husk. They'll be sticky and soft. Add garlic to the food processor. Add half the olive oil, half the lemon juice and ¼ tsp salt. Pulse until smooth.
Taste the mixture. If it's lacking punch, add more lemon juice. If it's too grainy, add more olive oil. If it's too thick but the texture is good, add some water. Don't add more salt until the olives have been incorporated, as they are also salty. When you've hit the right combination, the hummus will taste mild but not bland. Remove mixture from food processor and place in a bowl.
Chop the olives into small pieces, reserving a few for garnish. Mix chopped olives into the hummus with a spatula until evenly incorporated. Taste the mixture. Looking for a stronger flavor? Add some olive juice or black pepper.
Refrigerate for an hour or longer to meld the flavors. Traditionally served cold, but can be heated.
Cook Time: 30 minutes
Prep time: 15 minutes
Servings: 5