Recipes

Southwestern Sliders w/ Oven Fries & Chipotle Aioli
Recipes
Southwestern Sliders w/ Oven Fries & Chipotle Aioli
Posted by Jesse Rockwell on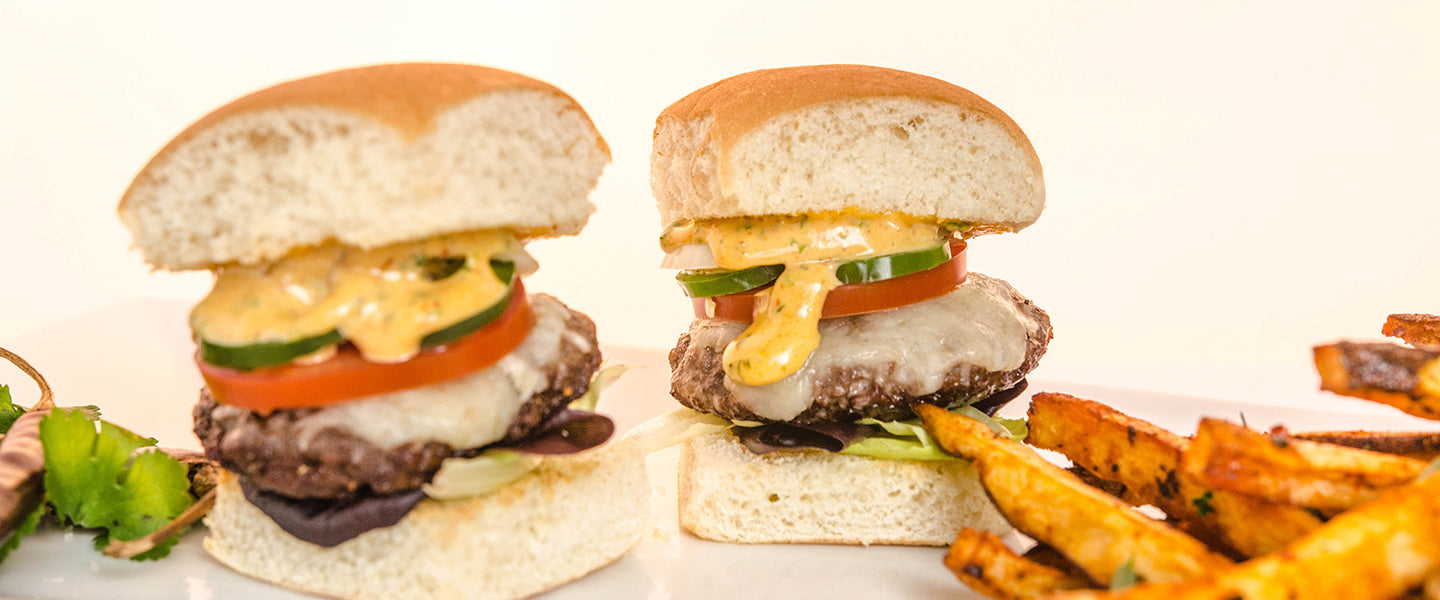 Back to the classics! There are those times when nothing else will do besides a good burger. In this recipe we'll shrink down a classic, and spice it up with jalapeños and a delicious chipotle pepper aioli. Aioli is a great accompaniment to countless things, and despite the fancy sounding name is extremely easy to make. With the burger we'll make some healthy oven baked fries with a good dash of southwestern seasoning. For this recipe I selected Hojiblanca olive oil by Oro Del Desierto for it's fruity notes that interplay well with the spiciness of the chipotle peppers.
Ingredients
For the Aioli
2 egg yolks
2 t fresh lime juice
1 t salt
2 T chopped chipotle peppers in adobo sauce
2 T chopped cilantro for garnish
1C olive oil (Try Oro del Desierto Hojiblanca)

For the Oven Fries
2 Large Russet Potatoes
1/4 C olive oil
1 T red chili flakes
1 T paprika
1 T fresh chopped thyme
3 cloves chopped garlic
Salt to taste
For the Sliders
1 & 1/2 lb ground beef
8 slider buns, toasted (or small hamburger buns)
1 onion
2 roma tomatoes
1 handful lettuce
2 jalapeños
2 T olive oil
2 t salt
1 t pepper
Directions
Cut the potatoes into 3/4 inch wedges and soak in water for at least 15 minutes, and up to two hours.
Preheat an oven and baking pan to 425 degrees. Remove potatoes from water and pat dry thoroughly. Toss with the oil and seasonings and put on heated baking sheet in oven for 30 to 40 minutes.
Add the egg yolks, lime juice, and chipotle peppers to a food processor, pulse to combine well. Slowly drizzle the oils into the spinning food processor, aioli will begin to thicken.
When aioli begins to stick to the sides of the food processor, add salt and taste for seasoning. If too thin, emulsify with more oil. Add chopped cilantro and reserve in fridge.
Slice tomatoes, onions, jalapenos and lettuce for the sliders. In a bowl add the salt and pepper to the ground beef and mix well. Form patties of suitable size for your buns with the beef.
Heat a large, thick bottomed frying pan to high heat. When pan is hot add the oil and fry the patties until well browned on both sides.
Remove from heat and allow to rest, covered for 5-10 minutes. Remove fries from the oven, they should be well browned and crispy on the edges.
Assemble the sliders, using the aioli to coat the top bun. Serve with aioli on the side and sliced lime for the fries.