Recipes

Sweet Potato Gnocchi with Goat Cheese
Recipes
Sweet Potato Gnocchi with Goat Cheese
Posted by Jesse Rockwell on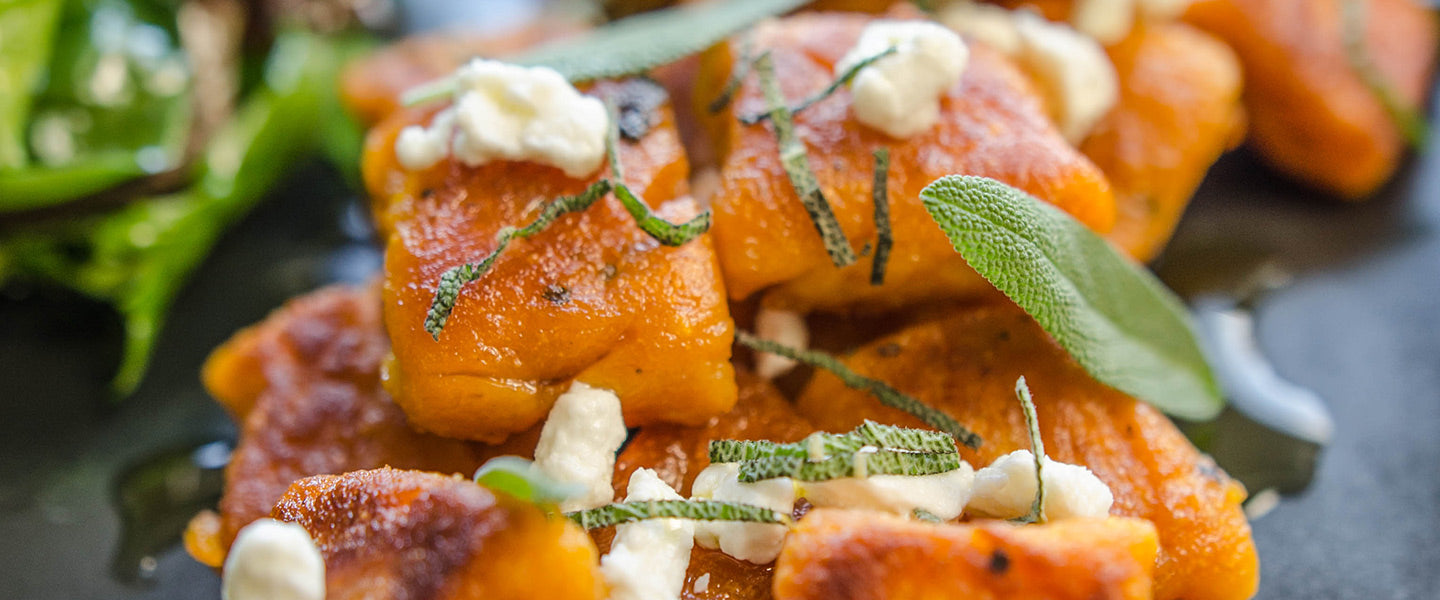 The weather has begun to to change in Northern California. One week ago it was 95 degrees, and now it is crisp and cool. The leaves are changing, and fall is finally here. This recipe aims to incorporate those comforting fall flavors, using sage, cloves, nutmeg, and sweet potatoes to create a dish best eaten by the fireplace. Gnocchi has a reputation for being a bit finicky, but in actuality it is quite simple, and a great way to make the average potato into something more remarkable.
Since we are using sweet potatoes I have chosen a strong olive oil with some bitterness (Viola il Sincero) as an accompaniment to counteract the sweetness. Give this recipe a try, I promise you won't be disappointed, and you may, like me, end up with it on your Thanksgiving menu!
Ingredients
2 large (1 lb) red skinned sweet potatoes (yams)
(Roughly) 2 1/2 C all purpose flour, sifted, plus more for rolling
1/4 C strong olive oil (try Viola il Sincero)
1/2 C goat cheese crumbles
2 Tbsp chopped fresh sage
5 large sage leaves, whole, plus more for garnish
1 clove garlic
1 tsp brown sugar (optional)
1/2 tsp ground nutmeg
1 tsp salt
ice bath
Directions
Bake the yams at 450 degrees for 45 minutes until soft throughout.
While yams are baking, add whole crushed sage leaves and crushed garlic clove to olive oil over LOW heat, allow to infuse.
When yams are done baking allow to cool slightly, and remove oil from heat.
Remove flesh from yams into large mixing bowl, discarding skin. Using a potato ricer, or a masher, process the yams to a smooth consistency.
Add 1 Tbsp of infused oil, and the 2 Tbsp of chopped sage and salt. Begin to incorporate flour into yams, 1/2 C at a time, mixing with hands (messy), or a wooden spoon. Avoid overworking and stop adding flour when a soft dough forms (you should be able to make a ball that does not stick when coated with flour).
Put a pot of lightly salted water onto boil and prepare a floured surface. Separate the dough into four balls, and roll into 3/4 inch snakes. Cut with a knife into 1 inch pillows. Prepare an ice bath.
Add gnocchi to boiling water (in batches if necessary). Cook gnocchi until floating, then remove to ice bath. Remove from ice water, and toss gently with olive oil, set aside.
In a large skillet add the infused olive oil from earlier, bring to medium high heat. When olive oil begins to release vapor, add cold gnocchi. Cook 2-3 minutes per side until golden brown.
Serve gnocchi hot with generous goat cheese and a garnish of sage.
The gnocchi alone is great but we could use a side. How about a salad using some of the leftover ingredients?
Fall Salad
Ingredients
1/2 lb of your favorite salad greens
1 large orange or 2 large tangerine, juiced
4 Tbsp Viola il Sincero olive oil
1 clove, crushed finely
1 tsp cinnamon
salt to taste
Directions
Juice the orange or tangerines.
Add the clove, cinnamon, salt and olive oil, whisk to incorporate.
Toss green salad with the orange dressing.