Recipes

Traditional "Horiatiki" Greek Salad
Recipes
Traditional "Horiatiki" Greek Salad
Posted by Olive Oil Lovers on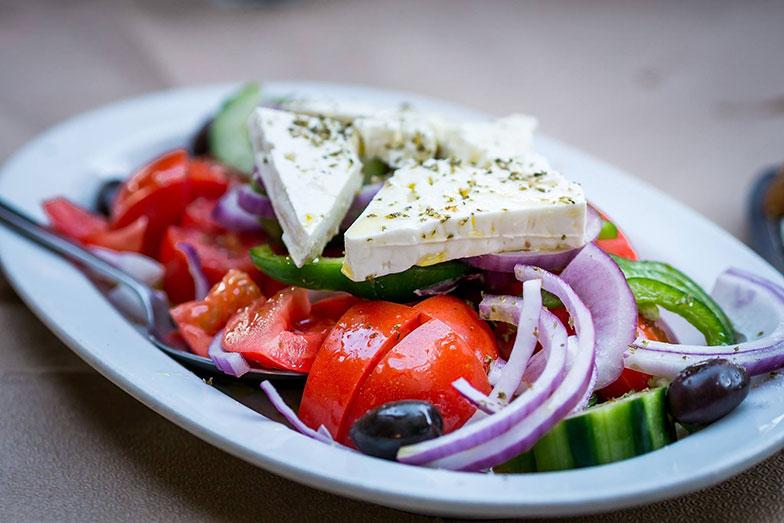 Right now these sub-zero temperatures outside have us dreaming of a warm, far-away place with eternal summer sunshine and warm Mediterranean sea breezes, so we're off to the island of Crete – at least in our kitchen, anyway. Today we're featuring a dish found on every table with nearly every meal in Crete: the Greek Salad, otherwise known as Horiatiki Salata.
While dead-easy to make, what really makes a Greek Salad taste like you're basking in the sun at an outdoor restaurant in Crete is the ingredients, and most importantly, the olive oil.
To make a traditional Greek Salad, be sure to seek out the ripest tomatoes, crunchiest cucumbers, an authentic Greek sheep's milk Feta and top it off with a premium Koroneiki olive oil from Crete.
What you'll need:
English cucumber, peeled, halved, and cut into half inch slices
Vine-ripe tomatoes, cut into large chunks
Green bell pepper, sliced
Onion, sliced
Sheep's milk Greek Feta
Greek olives
Sea Salt
Oregano
Extra Virgin Olive Oil from Crete
Directions
In a large bowl, combine the cucumbers, tomato, green pepper and onion and sprinkle with sea salt, then place a generous slice of Feta on top. Add some olives, sprinkle with a pinch of oregano and pour on the olive oil. Also be sure to have some fresh bread on hand to soak up the remaining oil at the bottom of the bowl.
For us, that's the best part!