Recipes

Tzaziki with Grilled Kebabs and Fried Potatoes
Recipes
Tzaziki with Grilled Kebabs and Fried Potatoes
Posted by Olive Oil Lovers on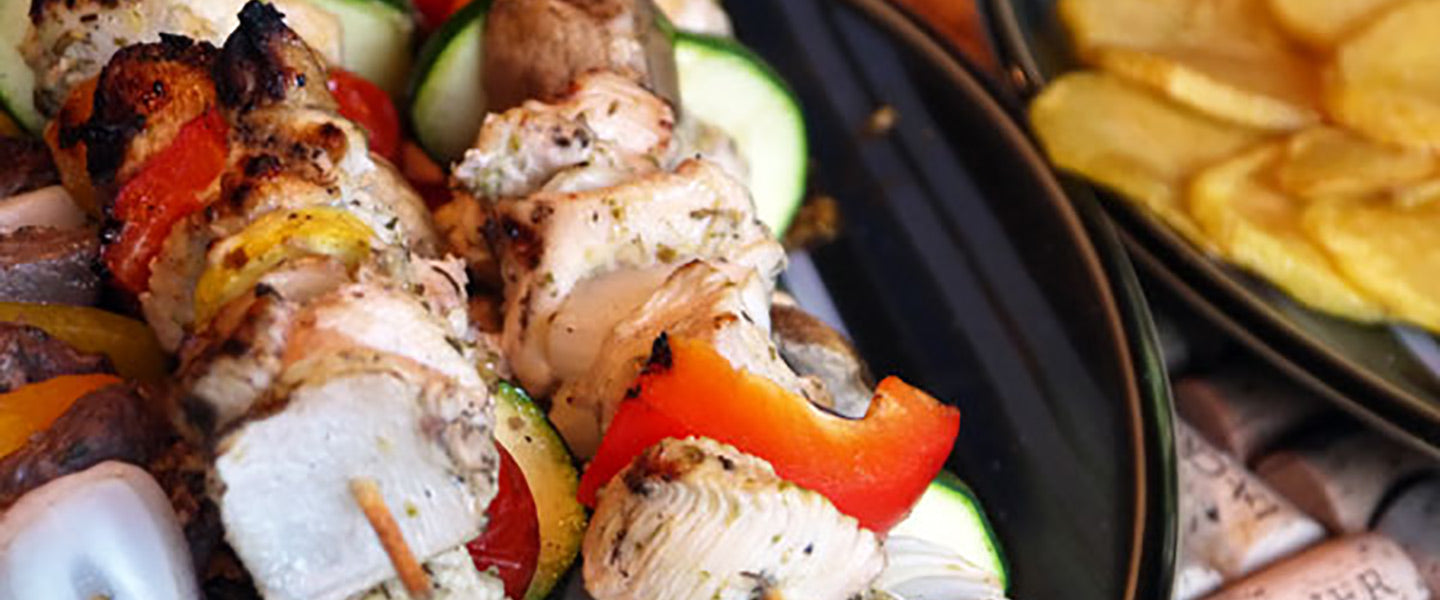 With Labor Day right around the corner, grills around the country are getting ready to be fired up for large gatherings of friends and family. Whatever you many be planning for the grill this weekend: steak, chicken, pork, veggies, why not have the perfect dip that goes with everything? A classic tangy yogurt dip popular in Greece known as tzaziki can be found on nearly every table that is serving up some grilled meat, especially kebabs or souvlaki.
This cool cucumber and garlic dip can be slathered on anything and everything, including potatoes fried in what else but good 'ol extra virgin olive oil. Yes, that's right, you can fry with olive oil, just as they have been doing for generations around the Mediterranean! To learn more about dispelling this myth, check out our Cooking with Olive Oil page. In fact, not only is frying in a quality olive oil a healthier alternative to seed oils, but it adds a rich tasty flavor to the potatoes that will have you hooked.
Before you fire up the grill and peel the potatoes, you'll want to prepare the tzaziki and refrigerate for at least 30 minutes before serving, allowing a good amount of time for the flavors to mix.
What you'll need for the tzaziki:
Directions
First, finely chop or grate the cucumber and use your hand to squeeze out the excess water and set aside in a strainer. In a mixing bowl, combine the yogurt, olive oil, vinegar and sea salt. Next, add the pressed garlic, then stir in the cucumber and refrigerate. Feel free to play with the amount of ingredients to reach your desired flavor. This recipe is very classic, but some have been known to add white pepper and herbs such as dill or even mint.
Yield: Makes enough dip for about 6 people
It's time to fry up the potatoes! You'll want to serve these warm, so be sure to time it appropriately with your grill schedule.
Estimating about one medium-sized potato per person, first clean and peel the potatoes, then slice in rounds about a quarter inch thick. Place potatoes in a bowl of cool water for roughly 20 minutes, then drain and set aside to dry on paper towels. Meanwhile, heat up the olive oil in a deep frying pan on medium-high heat with at least one inch of olive oil in the pan. You want to be careful to have the heat just high enough so as not to allow the oil to begin smoking.
The secret to successful olive oil fried potatoes is to fry in small batches, so add the slices of one potato to the hot oil at a time and fry until the potatoes just begin to turn golden around the edges. Using a wire strainer, carefully remove and strain the fried potatoes and set on a paper towels to remove excess oil. Once all potatoes are fried, place on a large serving plate and sprinkle with sea salt.
Serve these two items alongside some grilled kebabs and you're sure to have a hit at your next gathering around the grill. We guarantee your friends will want to know the secret behind the potatoes!