Recipes

Valencia Orange and Olive Salad
Recipes
Valencia Orange and Olive Salad
Posted by Catherine Murray on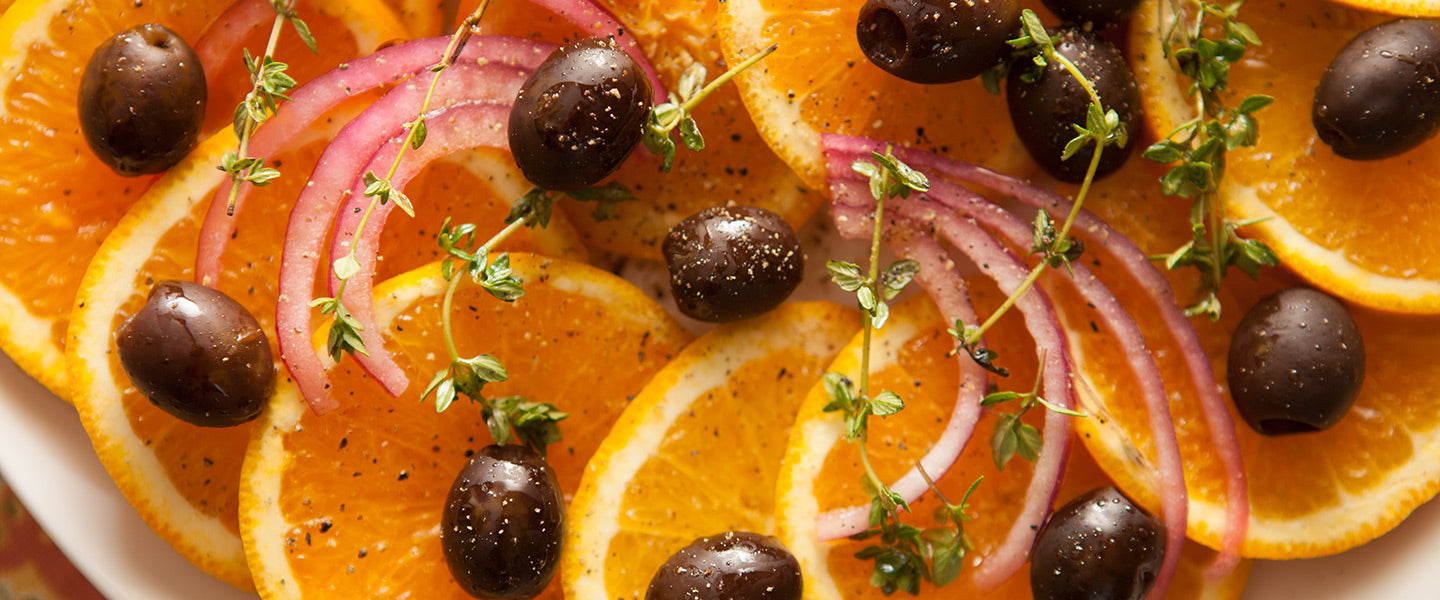 This recipe is a borrowed memory from a friend reminiscing about the family dinners he had growing up. Much like a Caprese salad, the salad is assembled in a layered pattern with a few simple ingredients.
The quality of the ingredients is important in such a simple dish. Valencia oranges are juicier and sweeter than navel oranges with less pith and pulp. Find black olives you'd be happy to eat plain. The Oro San Carlos olive oil is a medium fruity, well-balanced oil with notes of fresh herbs, apple and almond and a subtle spicy finish.
Ingredients
5 Valencia oranges
1 can black olives (16oz)
1 small red onion
20 sprigs fresh thyme
½ cup extra virgin olive oil (Try Oro San Carlos)
fresh ground black pepper
Directions
Cut the Valencia oranges crosswise into ½ inch thick slices. Place on a round platter, overlapping each slice.
Slice the red onion into thin rings, then cut the rings in half. Layer onion sections on top of the orange slices.
Sprinkle olives, sprigs of thyme, drizzle olive oil and sprinkle fresh cracked black pepper. Cover entire dish with a lid or plastic wrap and refrigerate for 3-8 hours to let the flavors meld.
Serve family style or plate individually. Salad can be eaten with or without utensils, removing the orange peel before eating.