Recipes

Vegetable "Pasta" with Thai Pesto
Recipes
Vegetable "Pasta" with Thai Pesto
Posted by Jesse Rockwell on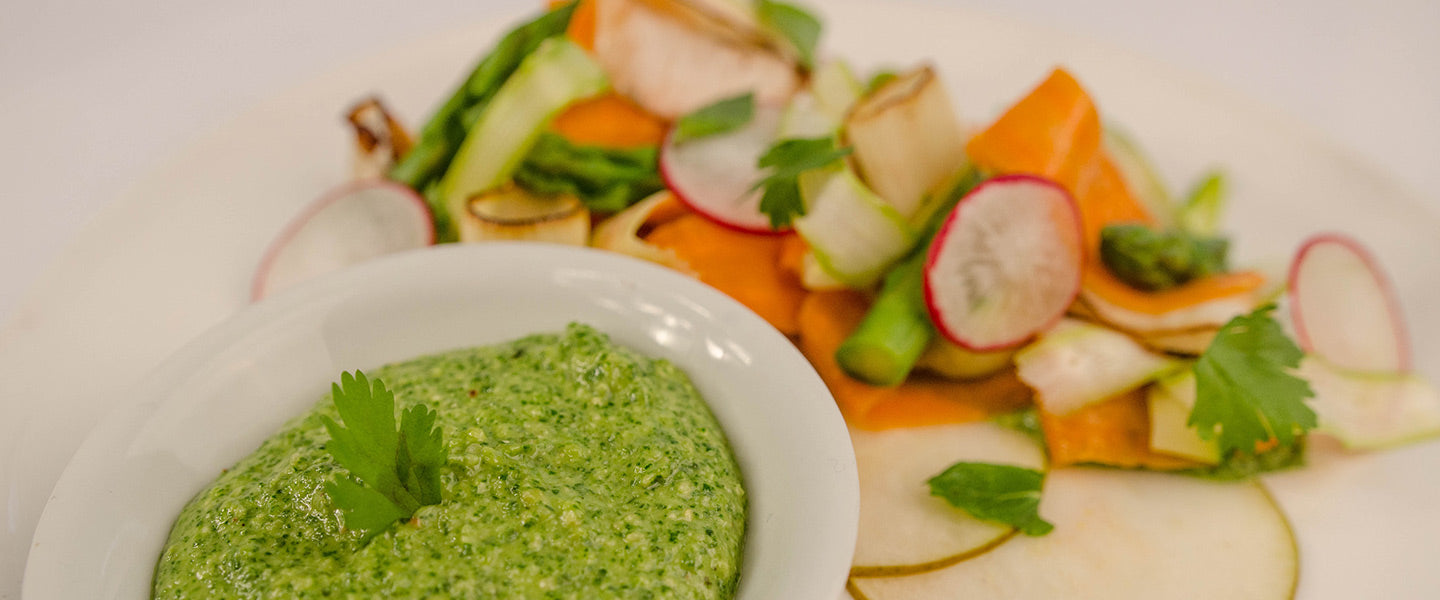 One's mind doesn't quickly wander to Asian cuisine when thinking of olive oil, but I decided to break a few moulds here and be adventurous. The results were better than I could have hoped for! Pesto is a staple in the Mediterranean kitchen, but there are many sauces and emulsions in Asia that rely on similar principles, so it seemed like a good place to start.
One of my favorite combinations of flavors is coconut milk, lime, and Thai herbs, so I made this the basis of my pesto. Instead of pinenuts (which don't exist in Asia, and are outrageously expensive to boot) I used toasted cashews. They lend a similar richness and flavor without breaking the bank. For this recipe I chose Iannotta Extra Virgin Olive Oil for it's light qualities and slight bitter notes, which seemed to blend perfectly with the ginger, garlic and cilantro.
Note: these are just the vegetables that looked good at the farmer's market, and could be substituted by a multitude of others.
Ingredients
For the Pesto
1 C Thai basil (can be found in your local asian grocer)
1 C cilantro
1/4 C mint
1/4 C Italian basil
1/2 C roasted cashews
1 T chopped ginger
1 T chopped garlic
1/2 C olive oil (Try Iannotta Extra Virgin Olive Oil)
1 T fish sauce (or soy for vegetarians)
2 T coconut milk
Juice of 1 lime
For the "Pasta"
2 Large Carrots
1 Bunch Asparagus
4 Large Radish
1 Asian Pear
1 Leek
2 Small Zucchini
1 T Garlic chopped
1 T Ginger chopped
Juice of 1 Lime
Salt to taste
Directions
For The Pesto
Bring a pot of water to the boil and prepare an ice bath.
Toast cashews in a dry, hot pan until browned.
Quickly blanch all the herbs for 30 seconds remove to the ice bath to set color, and squeeze firmly to dry.
Add herbs, ginger, garlic and nuts to a food processor or blender with a few T of olive oil pulse to break down.
Slowly incorporate the liquid ingredients while blending at a high setting reserve in fridge.
For The Pasta
Remove inedible bottoms of asparagus, and cut off tops, reserve them.
Using a vegetable peeler, peel the carrot, zucchini, and asparagus stalks lengthwise to create ribbons, this will be the "pasta".
Slice radishes thinly slice white part of leek into 1 inch cylinders.
When oil is smoking add the leeks and saute about 2 minutes per side until dark brown, reserve.
Bring a large saucepan to medium heat and add olive oil, ginger, and garlic. Allow to infuse for 2-3 minutes. add your vegetable ribbons and saute lightly until just softened, reserve.
Pour juice of 1 lemon over pasta. Check for seasoning, add salt and pepper as needed.
Slice pears very thinly and lay flat on a plate spoon a layer of pesto onto the pears.
Arrange the cooked and raw vegetables on top of the pesto sprinkle with lime juice, salt and fresh herbs.