Recipes

Blistered Green Beans with Parmesan Crisps
Recipes
Blistered Green Beans with Parmesan Crisps
Posted by Catherine Murray on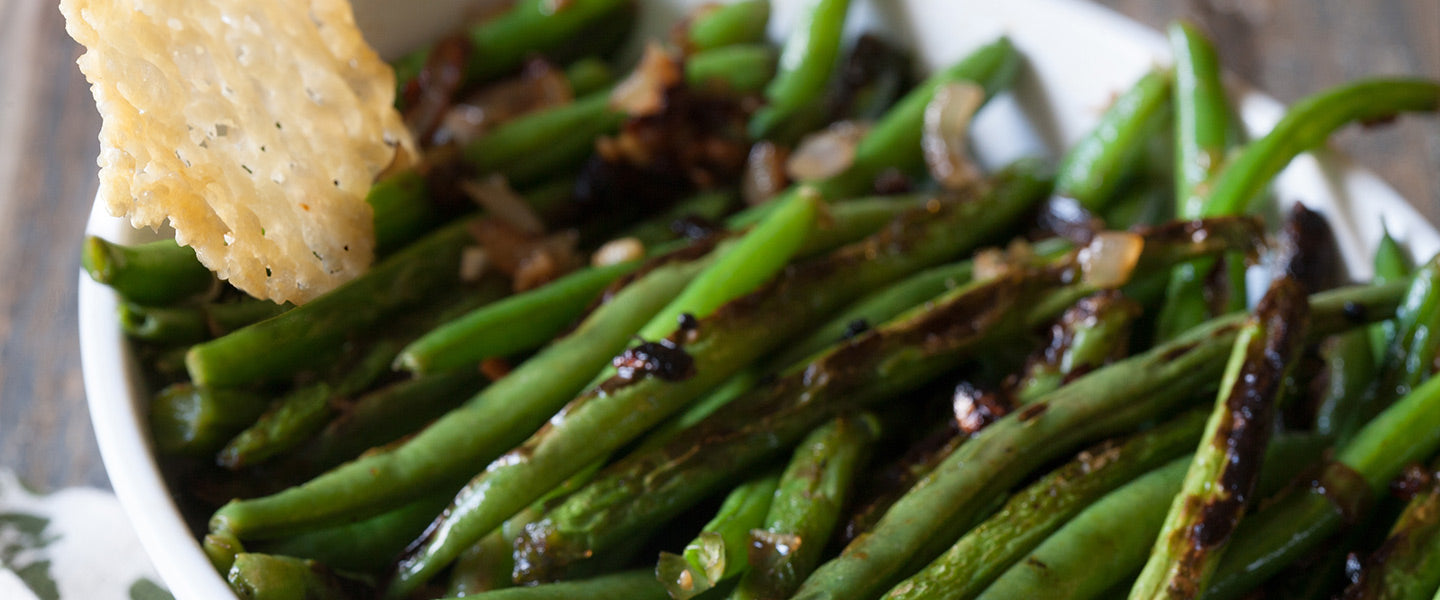 With Thanksgiving approaching, we're already dreaming and drooling over the staples of our favorite fall holiday. But one thing we all often think about too late are the side dishes. What compliments that roasted turkey (or tofurkey)? We spend a lot of time on the centerpiece even though it's likely what we've already mastered. So let's spend a few extra minutes this year to make something truly unique and complimentary.
Don't miss these other side dish delights, part of our Thanksgiving trio:
Add bold new flavors to this year's Thanksgiving dinner table with a reinvented standard. These charred beans are made stovetop with a flat-bottomed cast iron skillet and just a few ingredients. The Parmesan Crisps add a special holiday touch to a dish you may find yourself making year-round.
Take a break from the holiday butter extravaganza. The Frantoio Franci IGP Toscano olive oil has the essence of artichoke and tomato making it an obvious pairing with these green veggies.
Prep and Cook Time: 20 minutes
Servings: 6 side dishes
Ingredients
3 shallots, thinly sliced
3 medium garlic cloves, minced
4 tbsp. Tuscan olive oil (try Frantoio Franci IGP Toscano)
1 1/2 lbs fresh green beans, washed and trimmed
1 tsp. good salt
½ tsp. black pepper
1/2 cup shredded Parmesan
Directions
Preheat oven to 400°F. Pour heaping tablespoons of Parmesan 1 inch apart on a parchment lined baking sheet and lightly pat down. Bake 3 to 5 minutes until golden and crisp. Lift Parmesan crisps while still hot.
Dry green beans with a towel. Heat 1 tbsp. oil in cast iron skillet over medium heat until just smoking. Add shallots and garlic and saute until tender and slightly blackened on the edges, about 3 minutes. (Turn down heat if starts to pop.) Transfer shallots and garlic to a bowl and set aside.
Add 3 tbsp. oil to the cast iron skillet. Add green beans and stir once to coat. Cover with a loose fitting lid. Only stir beans every 2 minutes to get the blistered effect. Handle carefully, oil will pop. Cook until half the beans show signs of blistering. Beans should be tender with some snap. If the beans aren't blistering, they may have excess water. Uncover and cook until water dissipates. If this doesn't help, add more oil or turn up the heat.
Add the shallot/garlic mix to the green beans, season with salt and pepper, stirring to incorporate. Place green beans into a serving dish and garnish with Parmesan crisps. Serve immediately.