Recipes

Rustic Winter Panzanella Salad
Recipes
Rustic Winter Panzanella Salad
Posted by Olive Oil Lovers on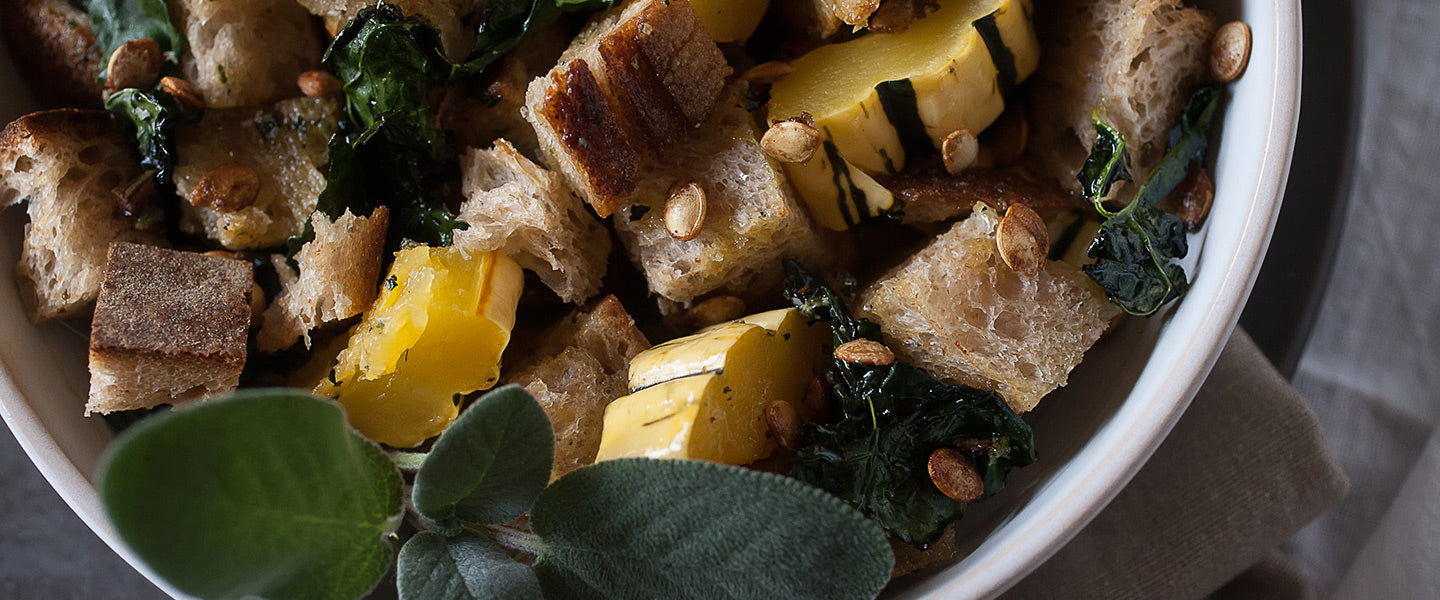 With Thanksgiving approaching, we're already dreaming and drooling over the staples of our favorite fall holiday. But one thing we all often think about too late are the side dishes. What compliments that roasted turkey (or tofurkey)? We spend a lot of time on the centerpiece even though it's likely what we've already mastered. So let's spend a few extra minutes this year to make something truly unique and complimentary.
Check out these other side dish delights, part of our Thanksgiving trio:
Recipes are always open for interpretation. Substitute preferred ingredients over unknown ones, skip steps, switch out fresh for dried, add cheese…it's how new recipes are born. Yet sometimes it's worth trying out a recipe exactly as it's written, because maybe all those extra steps and specific ingredients are worth the effort.
Why bother? Because this is the kind of dish you'll be proud to share. It's much more beautiful than traditional stuffing or a green leaf salad. Serve as a side dish, salad course, or main course (perhaps at a rustic fall dinner party.) Each element can be made ahead then combined when ready to serve.
"Delicato" olive oil and "Delicata" squash coinciding in this recipe may seem purposeful, yet it was a happy accident that brought these two together. Noted for being a versatile oil often used in salads, the grassy, floral notes bring a fresh element to this warm, rich dish.
Prep and Cook Time: 90 minutes
Servings: 8 side dishes or 4 meals
Ingredients for the Salad
1 large loaf high quality rustic bread, cubed
2 whole Delicata squash (with seeds—don't discard)
1 large bunch kale, torn into large pieces
4 tbsp. brown sugar
Italian olive oil to drizzle (Try

 

Quattrociocchi Delicato)
grey salt (for sprinkling)
Ingredients for the Dressing
¾ cup of the olive oil used above
2 tbsp. Dijon mustard
2 tbsp. fresh sage
1 tsp. grey salt
½ tsp. black pepper
Directions
Note: To optimize cook time, begin the next step while the previous step is baking.
Preheat oven to 400°F. Spread cubed bread onto a baking sheet and drizzle with olive oil. Sprinkle with salt. Bake for 10-15 minutes, until toasted but not hard. Transfer bread to a bowl, reserving the baking sheet.
Place kale pieces onto the reserved baking sheet in a single layer. Bake for 10-15 minutes, or until the edges are slightly crisped. Transfer to a bowl, reserving baking sheet. Turn oven temperature down to 325°F.
Cut each Delicata squash in half, lengthwise. With a spoon, remove the seeds and stringy flesh from the inside of the squash and place in a bowl. Set squash aside. With your fingers, separate the seeds from the stringy flesh, placing them in a separate bowl. Rinse the seeds, draining excess water. Spread seeds in a single layer on the reserved baking sheet. Drizzle with olive oil and sprinkle with salt.
Bake seeds for 10-15 minutes, until browned. Place squash onto a baking sheet, hollow side up. Rub insides with oil, then sprinkle with brown sugar. Turn the squash hollow side down and place in 325°F oven for 30-40 minutes, or until very tender.
With an immersion blender or small food processor, blend all dressing ingredients until smooth and incorporated. Set aside. Cut cooked squash into 1-inch half moons. (All cooked ingredients may be stored separately in airtight containers until ready to serve, up to 48 hours. Reheat squash in microwave for 1 minute. Reheat kale in microwave for 30 seconds.)
Place bread and kale into a serving bowl large enough for all ingredients. Add dressing (in stages) and toss. Add squash and seeds and toss only enough to evenly distribute the ingredients. Serve immediately.
Recipe by Catherine Murray