Recipes

Fresh Ricotta and Sweet Pea Crostini
Recipes
Fresh Ricotta and Sweet Pea Crostini
Posted by Catherine Murray on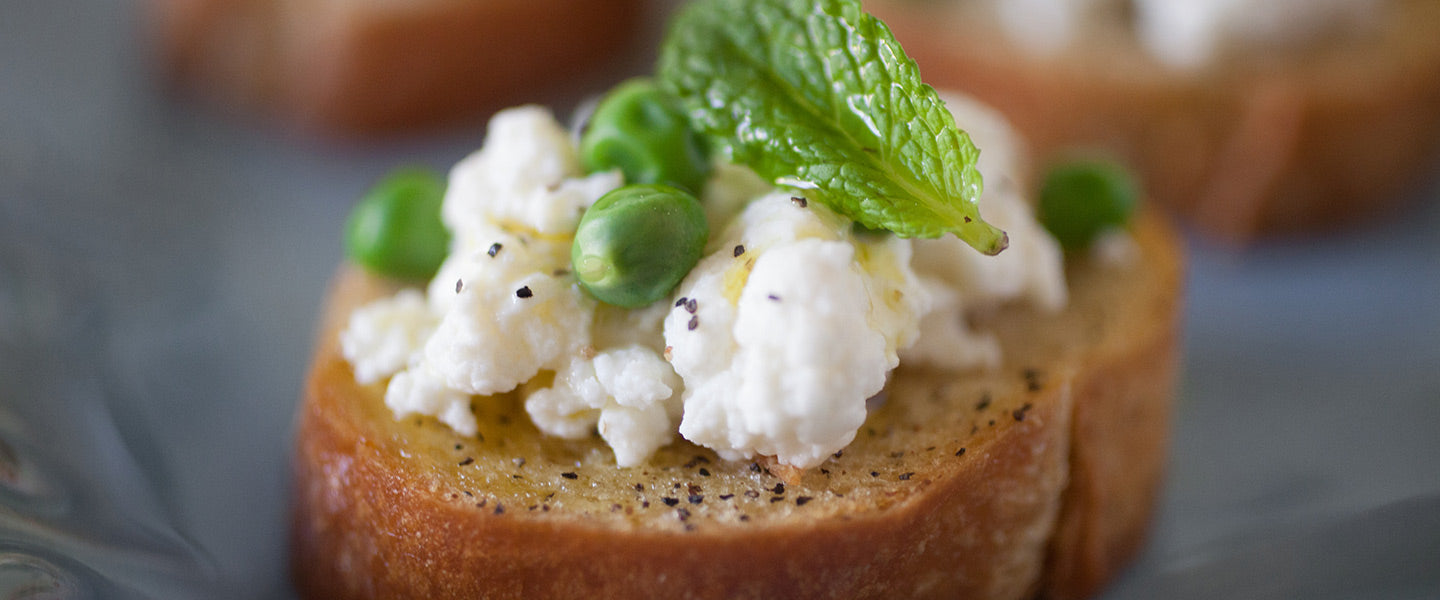 Fresh ricotta is one of the easiest cheeses to make. With a simple flavor profile, it doesn't overpower ingredients like fresh peas and quality olive oils. Serve crostini as an appetizer or have on hand for a satisfying snack. Don't be tempted to leave the mint out of this recipe, it's the perfect finishing touch.
Basirico DOP Valli Trapanesi is fruity and complex with aromas of ripe tomato and banana with hints of black pepper and mint with a sweet almond finish.
A few helpful hints to making ricotta: Make sure to use a non-reactive pot, such as stainless steel or ceramic. Use a small enough pot to allow the proper milk height for measuring the temperature without the thermometer touching the bottom of the pot.
Ingredients
½ gallon milk
¼ cup fresh lemon juice
½ tsp salt
1 large day-old baguette
½ cup extra virgin olive oil (Try Basirico DOP Valli Trapanesi)
½ cup fresh sweet peas/English peas
3-5 sprigs fresh mint
black pepper
Directions
Place milk and salt into pot over medium heat, stirring occasionally to prevent from burning. Use a thermometer to check the temperature often being careful not to let the milk come to a boil. Once the temperature reaches 180°F, add lemon juice.
Reduce heat to medium low and continue heating until curds form, 3-6 minutes. (Similar to cooking popcorn, curds will continue forming then slow down and stop.) Remove pan from heat and let stand for a few minutes.
Line a strainer with cheesecloth or a very thin kitchen towel. Set strainer over a large bowl to keep the whey or over the sink. Pour cheese into lined strainer and drain for 20 minutes or longer.
Shake out excess moisture and transfer cheese to an airtight container and store in refrigerator until ready to use.
Place olive oil into a small, shallow bowl. Cut baguette into thin slices. Dip each slice into olive oil, coating both sides and place on an ungreased baking sheet. Generously sprinkle with salt and pepper. Place baking sheet in 350°F oven for 20 minutes. Remove and let cool.